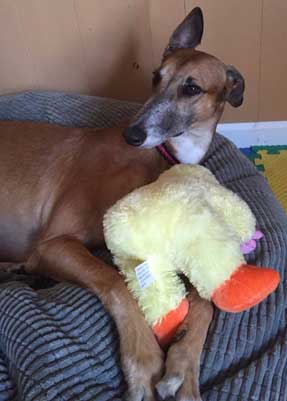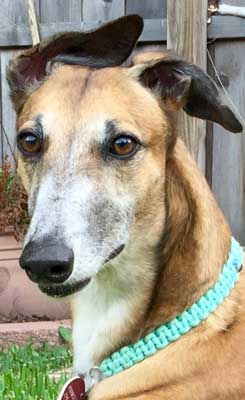 Princess Toolip – fka Tulip
GALT Tag #2201
Princess Toolip came to us as a foster with the name Tulip. After being a foster for quite a while, she became a member of the family and morphed into Princess Toolip. Her history is unknown, as she was double tattooed and found in West Texas with a hip injury that plagued her off and on throughout her life.
Toolip developed a quirky side living up to the Princess part of her name. Treats were to be delivered to her slumber ball, while watching her brother do tricks for his treats. She had a "chirp" bark when not pleased or was demanding something. She used this chirp bark often when Vinny was on a particular bed she wanted or had performed some other infraction. She LOVED car rides and perched her butt on the edge of the "Observation/Lounging Deck" in the van and would ride like that for hours. Many a night I had to bring her in and shut the dog door or she would sleep under the stars all night, often with a stuffie for a pillow.
Toolip suffered a stroke in May of 2017. She fought like the warrior princess she was, and with a lot of work made a full recovery. At any greyhound gathering she would race like the wind and smile all the while.
On October 17, 2020, my precious girl was bitten in the mouth by a copperhead snake. Due to the location, her throat swelled and she was put on a ventilator. After two rounds of anti-venom we thought she had turned the corner, but Monday morning she developed fluid around her heart. Princess Toolip made her way to the bridge at 10:15 on October 19, 2020.