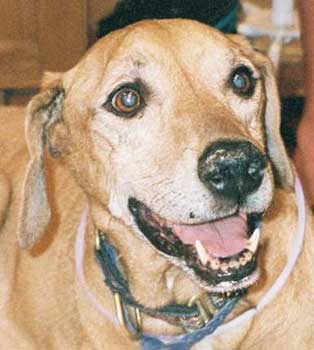 A sweet, wise, wonderful old soul just took flight on wings of tawny velvet. Telly was my first Ridgeback foster and after ten wonderful years with his adopter, Pat, he came back to me when she died of cancer a year and a half ago. At sixteen years of age, Telly was a marvel…still trotting and getting 'frisky' with the girls. (He never seemed to realize he'd been neutered years ago when he came into rescue at age five. <G>) He was Pat's Heart Dog and his wise soul burrowed permanently into my heart too. He was teacher to many foster and adopted dogs. He was a protector and a mediator. He became the apple of my Ridgeback Tess' eye, and later he took my adopted Greyhound Barbie under his wings, and she adored him. But Lymphoma provided his final battle here on Earth.
We celebrated his life with a wonderful party at Three Dog Bakery a few short weeks ago and Telly loved every minute of that. But this week, he let me know he was ready… Ready to be young and strong again... ready to go join his true mom, Pat, at the Bridge. I would not see him suffer and lose his dignity. So this evening, in our own home, our gentle vet came over and Telly was released from his worn-out body surrounded by those who love him. He went very, very quickly and very, very peacefully with his great head in my hands. Even my vet was surprised. He was ready, she said… we all said. I was not, but he was.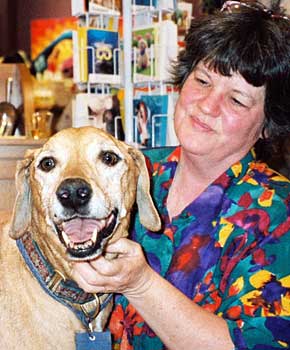 Our last few days have been filled with special treats, doggie ice cream, car rides, and short walks for Telly. This afternoon, our wonderful dog sitter Saara, came over to be with us all and we brushed and spoiled Telly some more. He loved it, but we could see he was tired.
Barbie, Azi and Kiara were present. They all laid down in a semi-circle around him and watched quietly. Auggie and Tess were brought out later and silently paid their respects.
I cry now not for Telly, but for those left behind. I already miss him terribly, but I rejoice in the knowledge that right now, there is a joyous reunion happening across the Rainbow Bridge. Telly and Pat are both young and healthy and once again, enjoying that special heart bond they had.
I have made donations in loving memory of sweet Telly and we encourage you to donate to a group that speaks to your heart too - whatever group that may be. To honor his breed and those we've worked with in Ridgeback rescue, we are donating to two of the wonderful groups in Texas – a state that has become overwhelmed with Ridgebacks in rescue recently.
Etosha Rescue: http://www.etosha-rescue.org/
Texas Independent Ridgeback Rescue: http://www.petfinder.com/shelters/tirr.html
And since Barbie certainly viewed Telly as an Honorary Greyhound, a donation has been made to the very special group I adopted her from - Greyhound Adoption League of Texas.
Godspeed, Telly. Know that we love you and you are in our hearts forever. We will light a candle for you to help you find your way over the Bridge. And when you arrive, give Pat's hand a nudge for us too.
Love,
Em, Tess, Barbie, Azi, Kiara and Auggie