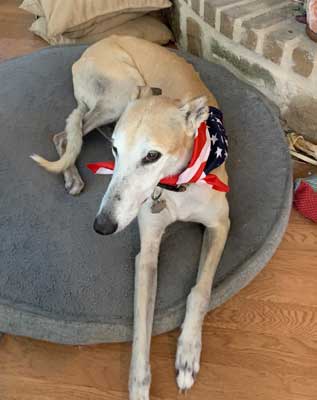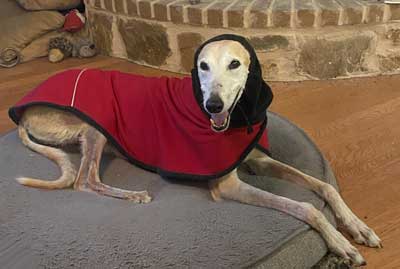 Sneaker, aka NST Sneak a Peek, GALT #1442
Nov 11, 2007 - May 13, 2021
Beloved and cherished by Elaine & Thomas Bridges
Sneaker was brought into GALT by the Fort Worth Animal control – he was found as a stray with many medical issues so it took GALT several months to nurse him back to health so he could be adopted – his GALT foster family were the Berners.
I remember the first time we saw Sneaker at a GALT event at Petco – he was so shy but would warm up to you once he got to know you a bit. We instantly felt a connection with him and he seemed to like our dog Aussie, so we decided to fill out the paperwork and adopt him.
The Berners were his Galt foster family & we are very grateful they decided on us to be Sneakers forever home. I remember all the great advice they gave us and Sneaker did like sleeping with his chew toy. He seemed right at home as he ran in the backyard for the first time – he was so graceful and fast.
One of the first purchases we got for sneaker was his winter coat with a hood – he loved to wear it and would prance a bit when he had it on. When we would go for walks and he had it on, the neighborhood kids would yell "your dog has a hoodie" and come over and pet him.
Later in life Sneaker developed Chronic Lymphocytic Leukemia – Dr Roof and Dr Dawson at animal diagnostic Dallas (VCA), gave him excellent care and in August 2020 he was free of cancer.
We had many good years with him but sadly, on May 13 he had a stroke and quickly crossed the rainbow bridge. He will be missed by his human family, his furry siblings, and all the neighbors who will miss seeing him on his daily walks.