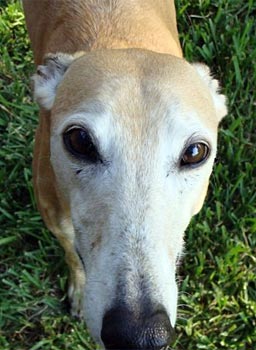 She was so shy, so painfully shy. She was crouched under a table doing the "greyhound statue" at the meet and greet, but her foster mother said that she was a different dog in a home environment. And so she was - I wanted her on the spot. I brought her home and that was when I got my first case of dog love.
She was a fun-loving girl who had two personalities. She was polite and quiet in public and never sat down - but at home she was the greatest dog in the world. She loved to go for walks, to sun bathe, to just be with me - she was what I had always wanted.
She was such a wonderful ambassador of the greyhound breed - everyone who met her fell in love with her and her wonderful manners and broken tail.
Our house is so empty now - no one tackling me when I open the door for a hug and a cookie. I am so grateful for the 4-1/2 years that I had this unconditional love. I will miss you...and I love you. And your greyhound sister Dottie misses you too.
Run free – we will meet again Skinny Minny, my beautiful girl.