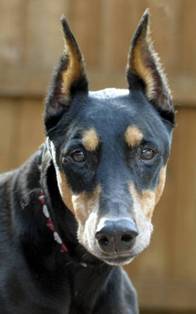 MarNic's Scarlett O'Hara UD, TT, RE
A number of years ago Lynn Eggers told me about a Doberman she had picked up for Rescue from the Grapevine shelter. I went out to look at her and took her home that very day. I officially adopted Scarlett on August 31, 1997 from the Doberman Rescue of North Texas group headed by Julie Munford. She was approximately 10 or 11 months old at the time. We began obedience training immediately and she received her CD title in 3 straight shows in October 1998, Open title in 1999 and her Utility title in 2004. Her registered name is MarNic's Scarlett O' Hara and her call name is Scarlett. She is a joy to live with and she falls asleep on the pillow next to my head every night. She is a perfect girl.
She was temperament tested and was accepted by the Therapet Animal Assisted Therapy Foundation in Tyler, Texas. We were part of a program that visited a Texas psychiatric prison located in Rusk, Texas. The prisoners were allowed to pet and play with the dogs. We then put the dogs in various costumes and the prisoners were photographed with the dogs of their choice. The warden found this interaction with the dogs to be very helpful for the prisoners. They had to work on their behavior for the privilege of being allowed to visit with the dogs. This turned out to be a very worthwhile project for all concerned. I attended this three or four times a year for several years.
When Rally came to this area we attended the seminar and took some classes. We received our Rally Novice, Rally Advanced, and Rally Excellent titles. Later on, Scarlett and I went back to Novice Polish class for a few weeks to brush up on our skills, entered Veterans at our September show, and were lucky enough to place first. This gave us the courage to enter the Veterans class at our very first National in the fall. We won the class with our best score ever of 197 ½. We were thrilled and I was so proud of her. She is my perfect dog regardless of whatever she does!!!
Scarlett left me for the Rainbow Bridge on Sunday, August 22, 2010.