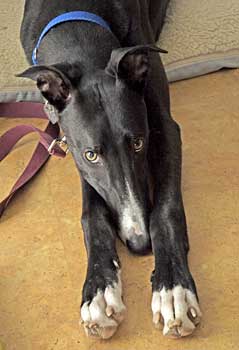 A year ago, August, a three-month-old greyhound puppy was found wandering the streets of Bakersfield, CA, starving and covered in ticks and fleas. He had no tattoos in his ears, so there was no way to find out where he came from. His saviors came in the form of volunteers from GreySave Greyhound Adoption who had driven up to release two greyhounds from the local animal shelter. "Do you want to take the puppy, too?" was the first question from the shelter staff as the volunteers entered the building. Pippin slept throughout the entire drive to Pasadena in his favorite sleeping position; on his back with his legs in the air, completely content, with no notion of the happy life he would have in a foster home where he learned the ropes of being a greyhound.
While Pippin grew up tall and thin, there was never a day where he was not happy and full of enthusiasm for all of the wonders of the world. In January, when Pippin was six months old, it was decided that Pippin needed to find a new foster home. The house Greys had taught him all they could, but it was time to move on to another home after he had enthusiastically dug many a crater in the defenseless lawn, eaten more than one book with joyful abandon, and pilfered treasures from more than one trash can.
At the same time, Gretchen Beckert had lost her agility partner and best dog friend, Molly, to bone cancer, and the house greyhound, Andy, needed a new friend. So! In bounced Pippin (who was fostered for, oh...an hour before being adopted) with his tail held high and a glint in his gold eyes to enthusiastically dig many a crater in the defenseless lawn, eat more than one book with joyful abandon, and pilfer treasures from more than one trash can.
Pippin was a true friend to Gretchen and Andy, and he brought joy and laughter to many people around town with his goofy antics and joyful spirit. He loved running in the back yard, playing in puddles, snuggling with mama, and dismantling every toy in his large toy box. Pippin was a natural at agility. He was completely fearless, every new obstacle was a new toy to play with.
Some beings are not destined to spend much time on earth. Earlier this week Pippin died in a freak accident while playing at home. He died while doing what he loved best - running at top speed around the yard. He missed a turn while looking back at a toy and crashed neck first into a cement retaining wall. His life was over in a second. His mom saw it all, and was able to hug him and kiss his nose as he started his journey across the rainbow bridge.
Pippin will be missed so very much. Fly free, little Pip, on strong white wings. Dig holes in puffy clouds and steal golden halos with a doggy kiss and a grin.
My friend Anne said it best:
I know that in Heaven a few months back the Head Doggie Angel was telling everyone, "I need a loving family for a brief while for a sweet big black boy named Pippin. He has a big heart and he might even break the hearts of his human family, but I need a special home for his time here on earth." I bet Molly stepped forward and said "I know just the right family. Please pick them for Pippin, they will love him and give him a great life and although they will grieve for his loss, they will be the best choice for his human family while Pippin is on this earth. No other family will love him so dearly." And the Angel nodded in agreement and Pippin was destined to belong only to you during his all too short stay. The heartbreak is great, but the privilege was not given lightly.
Gretchen Beckert
Andy Greyhound, CGC, TDI, counter surfer
Pippin Greyhound, puppy, gone too soon, June 2006 - July 2007
Molly the Queen, CGC, TDI, heart dog at the bridge