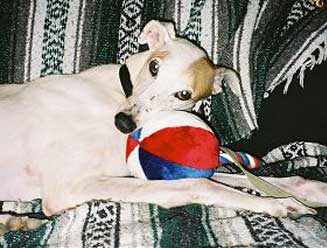 From Petey's foster mom, Emily Danskin:
With greyt sadness I learned of the passing of a dog who truly touched my soul. Petey, my first Greyhound foster, just passed over the Rainbow Bridge from a heart attack. Apparently the walls of his heart were thin on one side - possibly from his serious bout with heartworms, but they're not sure. He was adopted (after a return) several months ago by the fabulous couple who adopted GALT's boy, Thor. They rushed Petey to the vet at the first sign of a problem and told the vet money was no object. But despite their best efforts, Petey's great heart gave out.
He was found as a stray, but came to know love and kindness through GALT and its volunteers, then from his new family. I was honored to have Petey as my foster boy for almost a year. His gentle, dignified, occasionally silly spirit won over all who met him. He became Big Brother and protector of Cinnamon, the almost blind, deaf Sheltie I dogsat. He would follow her around the yard, keeping her away from the fence with large, loud dogs on the other side... staying by her side whenever she went out. He loved to pile all my dirty laundry into one big heap and then plunk down right in the middle! (If only he'd learned to pile it by the washing machine.) Even my Ol' Tess (my 10-year-old cantankerous Ridgeback) liked him - and that says a LOT in dog language! He opened my heart to this wonderful breed and helped introduce me to some of the best friends I've ever had. For that, I'll be eternally greytful.
His first adoptive home loved him, but it didn't work out. He stole the hearts of Joann and Scott Young when he returned and they fostered him. He almost remained there, but his TRUE Forever Home came with Glenn and Julie Wilson - the adopters of Thor. While his time with them (with all of us) was too short, it was happy, loving and full. It was meant to be.
Petey is the screen saver on my computer and each night I tell him Good Night and 'pat' his sweet head. Now I can just talk to him and I know he'll hear me.
You'll always be with me, Petey. You make me smile. You are a testament to the very best a dog can be. I have made donations to GALT's Angel's Strays fund and to the Miss Mesa fund in memory of my sweet boy so his legacy lives on.
Love,
Foster Mom Em and the Kids in Sedona