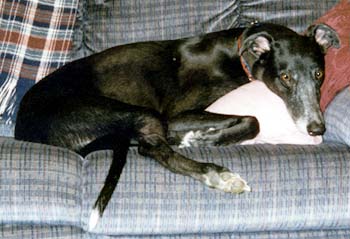 Mosey, forever my beloved greyhound
by Charlotte Brown
As I talked to the people in the greyhound rescue group those many years ago, I kept telling myself, you're not a big dog person. I even took other family members with me to talk me out of bringing you home, but the moment I saw you I knew you'd be making the trip. You were my transition dog - you helped me get through a divorce, then the loss of my beloved Shotzie who at the age of 12 went ahead to play at the Rainbow Bridge.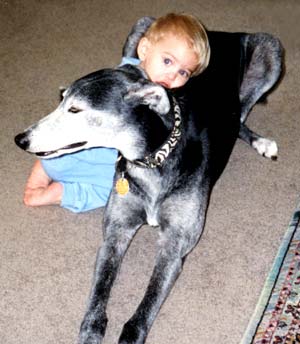 You changed my life throughout the years and became a true member of my family - grandkids and all. You claimed your favorite spot the first night you came to stay with me - my bed, but we came to a mutual understanding that you would allow me to use it at nights. You were the perfect gentleman, perfect greyhound and my perfect friend. You listened to all my problems and never let me down.
We had both reached the point where aging was starting to show, but we didn't care. You can imagine my surprise when I received the news of your illness that would once again change my life. The time we had together flashed before my eyes and I knew it was way too short. We had made plans with spring on the way to run in open fields and take more walks, only you would not be there to share them with me. I am at peace knowing that you did not suffer and are playing in your own open fields with all those that have gone ahead. You will be sorely missed and loved always!