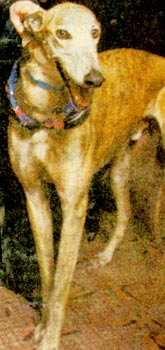 Jack raced as Maui for over five years but LIVED as Jack from February 1996 until March 27 2002. He stole our hearts at a fund raiser in Austin when he walked up and leaned on me and looked up with those brilliant eyes. Needless to say, that was all it took, and we came back to Dallas with an 86-pound greyhound. The benefit gala was for The Jack Sansing Dental Clinic for AIDS patients which was established by our friend Jack Sansing prior to his death. We decided to rename Maui, Jack.
We brought Jack home to meet his new sister Sara (a 13-year-old Spaniel mix). We think Jack added years to Sara's life; all of a sudden she had this tall handsome male in her life. They had a great life together until Sara made her departure to the Rainbow Bridge on 6 September 2001, just one month before her 19th birthday. Jack missed his Sara very much.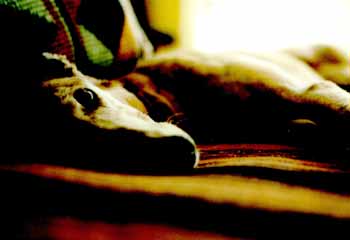 Jack developed a tumor in his left eye which was malignant and we had to remove his eye last November. He recovered beautifully and was a very happy dog, as though he was thankful that we had helped him. Early this year he developed a bad limp which we thought was arthritis, but it was diagnosed as bone cancer. On March 27, 2002 we very emotionally helped Jack cross over to be with Sara.
Jack was loved by everyone who met him; even our neighbors whose cats lives he took prematurely. He was a real charmer!
We miss you both, Sara and Jack, but we know you are now healthy and running together on the Rainbow Bridge.
Your Dads,
Paul Dickel and Don Farris