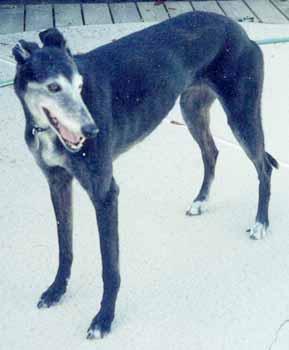 Today, January 3, 2005, Mandy Lynn Bengelsdorf went to the "Rainbow Bridge" at the age of 14. Mandy was a stray found wandering in Euless in February 2002. As with so many strays that come to GALT, we cannot trace her background because the tattoos are unreadable. We became her foster parents for GALT. Mandy adapted quickly, and made herself at home immediately. Mandy loved to look out the windows and take in the sun when she could. Mandy was a real chatter box and told some outrageous stories while she was in our home. While Mandy was there, we never had to worry about any leftovers in any of the other dog dishes because she always licked them clean when everyone was through. She was special in so many ways. Mandy just turned 11 when she came to GALT.
One day, a very special person called GALT and wanted to meet the princess. That special person is Lisa Bengelsdorf. Lisa was surfing the GALT website and read about Mandy and just knew she had to meet her. You see, Lisa loves the older dogs. We took Mandy to Lisa's house for a little visit and it was love at first sight for both of them. Lisa would not let us leave with Mandy; she knew that little girl was meant to become a part of her family. Mandy took over the roost and Colby, Annie and Kelsey (Lisa's other four-legged family members) welcomed her immediately.
Mandy was always happy. Her eyes twinkled, her tail wagged and she chattered away. Mandy told stories like you wouldn't believe with different and new sound effects all the time. If Mandy didn't like something, she made sure she told you about it. Lisa found out quickly that her phone calls needed to be short. When Lisa came home, Mandy wanted her attention. She was very petite but knew how to make her way through a crowd. Mandy had some unique facial features that reminded you of Lilly from the Munsters. Mandy was so alert and active which made it hard to believe she was a senior dog. Lisa used to be pretty strict about letting her four-legged friends sleep with her. That didn't last long with Mandy; she nuzzled her way in quickly and became Lisa's bed buddy.
We were very fortunate and got to see Mandy often. When Lisa went out of town, she always allowed us to keep our special little girl. Mandy always remembered our home. She came right in and took over the house. No one minded, because Mandy was special to everyone. Mandy sent us cards for all the holidays she never forgot. We were fortunate to be a part of her life. Mandy, thank you for coming into our lives we are all blessed for knowing you. Thank you for sharing your love and warmth. You will always be remembered.
Lisa, thank you for sharing your little girl with all of us we will always be grateful. Please remember -- Those we hold most dear never truly leave us… they live on in the kindness they showed, the comfort they shared and the love they brought into our lives.
Our deepest love - Ken, Stephanie, Jig and Benny Lamoreaux.