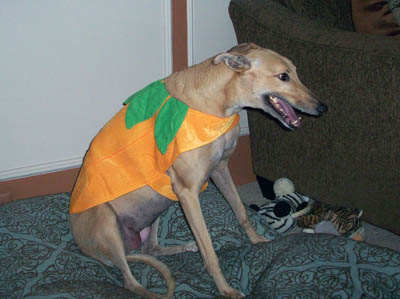 Maggie was an 8-year-old fawn who suffered an amputated rear leg last fall due to a cancerous growth. Last week she returned to our vet here in Allen when she was having trouble breathing. After x-rays were taken the Doctor informed us that Maggie's lungs were filled with fluid from a mass in her chest. On that day Feb. 7, 2013 She crossed the rainbow bridge.
She will always beloved and missed
Scott and Rosa Greenwood
Pic of Maggie last Halloween dressed as the "Great Pumpkin"