Lightening, aka Jit Lightening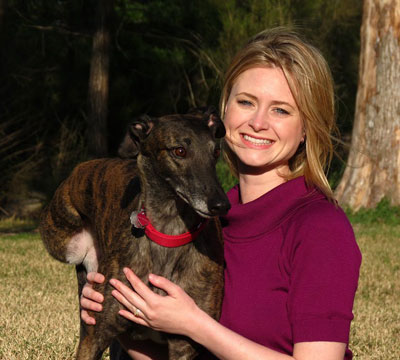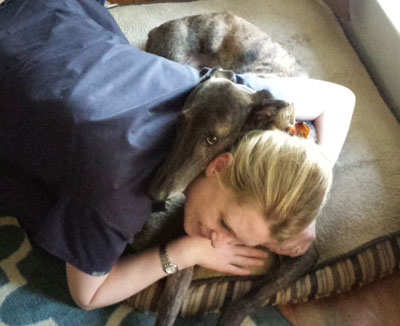 Lightening came to us just a few weeks after having a back leg amputated at the hip following a racing injury—a compound fracture of her right rear hock. This was going to be our first dog together, and we had never owned a greyhound. From the first time we met her, we knew Lightening was special. Lightening was quiet and very shy, but she was sweet and resilient. We could not stop thinking about her, and knew we wanted to love her and for her to join our family.
The first night in John's house before we were married, Lightening wouldn't even get out of her bed. We even called her foster parents to make sure everything was ok! But in the coming days and weeks, Lightening's personality really started to emerge. She was silly, goofy, and playful—but more than anything else, she was a gentle, caring, and loving. She loved laying in the grass and going on car rides to the Lake Granbury, but most of all she loved just being next to us. If a hand dropped towards her, Lightening would slide her nose and head underneath for a pat or a nice eye rub. If she was next to you and wasn't getting any love, she would start chirping and swipe a paw into your hand as a reminder. Most mornings, and every single evening when we came home from work, Lightening was bouncing and waiting for a long, soft hug (and more eye rubs).
Lightening accepted our three children as her very own siblings. Despite all the ear tugs and grabby-hands when they were infants, Lightening never got frustrated or avoided them. She loved them. Many nights she shared a bed with our sons, curling up at their feet. Over the past year, she often gave our one year old daughter a probing wet nose and curiously examined, with ears on high alert, whatever toy she would show to Lightening. No plate or counter-top was safe in our home, but that was partly due to the fact that nearly every meal was spent with babies giggling with Lightening licking fingers and toes looking for a treat. Outside, I could shout to Lightening: "Go!" This would often result in a couple furious "zoomies," our kids screaming with joy, before it was back inside for some "roaching."
Lightening loved her grandparents, who loved Lightening as their own. Many nights were spent in Fort Worth or at the lake with Emily's parents, who were also Lightening's caretakers if we took an extended trip. Lightening also shared a very special bond with John's parents. One of Lightening's last evenings was spent laying on the couch next to John's dad with her head in his lap.
Lightening was the sweetest and most gentle companion we may ever know. She was in the room with them when John proposed to Emily, and was waiting for us we got home after our wedding ceremony. Lightening moved with us to different cities for school and work; welcomed home her two brothers and a sister from the hospital; and was with us on numerous vacations, trips, and holidays.
Lightening's final moments were spent in her own home, in her own comfy bed, with us hugging her and telling her how much we loved her, how proud of her we were, and how much we would miss her. There is a tangible void in our home, but we are so very grateful for our time with her.
We love you, Lightening. Our sweet girl.
John & Emily Herring