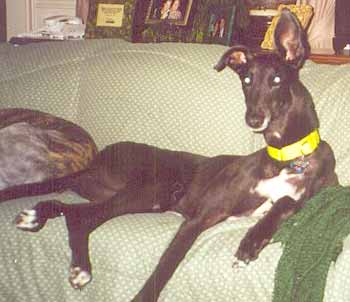 Jack, aka RC's Jackie, literally "walked into our lives" June 4th, 2000, and was with us for 10 months and one day. Seems like much longer right now, and we only wish it could have been years more. We received a phone call on Sunday morning, June 4, about 10:00 from a woman in Plano, TX. This big black greyhound had walked into her foyer the night before while her kids were playing with the front door open. She wanted someone to come over as soon as possible and pick up this stray out of her house. He had been "counter surfing" in her kitchen, and she was not happy!
When we arrived we encountered this huge, handsome, black, skinny boy - his coat was reddish black and very thick, indicating he had been outside a long, long time - also his collar, with NO tags, was black on the inside, but so faded on the outside it was army green!
We loaded up and brought him to our home where Jack had a "spa afternoon" complete with pedicure. Less than 18 hours later we were thinking, "wow, this is a wonderful boy - very special indeed", and because the rescue group already had 35+ seniors looking for homes, we opted to keep him with us as a "foster"...and he needed a name, of course - something simple but also fitting for this elegant gentleman. So we settled on "Jack".
The next day, we called the NGA to get "Jack's" information. He was born April 21, 1991, was puppy C, and his registered name was "RC's Jackie"! That, to us, was a sign that YES we should keep this wonderful Boy as our own - and the word "wonderful" doesn't do him justice. John said many times that Jack was almost human in his expressions and loving manner, and he was exactly right! Jack was our "GIFT", and we will always be forever greytful to have shared his life for these last 10 months. His departure from this world was very sudden, less than 1½ hours, probably from a stroke. We wish we had taken more pictures, now of course. He was one of the most handsome greys we had ever seen, with a gorgeous black shiny coat - we stopped taking him to meet and greets because everyone wanted to adopt Jack!
It is a mystery where Jack came from and what his life was prior to his finding us. He had badly broken front right toes that prevented him from running, and we could find no racing history for him on Rosnet. Jack's mission on this earth was fulfilled, even though we think it was all too short. He will forever live on in our hearts and memories and will always be with us. We never knew the term "heart dog" until we adopted a greyhound - that was our Jack - our lives are changed forever because of him. We feel Jack came into our lives for a reason, and left for a reason - one we do not understand at this time - maybe we will with time.
We all have no assurances of our future - with each other, or with our hounds; just appreciate and celebrate each and every day you have with your loved ones.
Jack, until we meet at the Rainbow Bridge, run and play on winged feet,
We miss you - our Jack-a-roo,
Susie and John McQuade