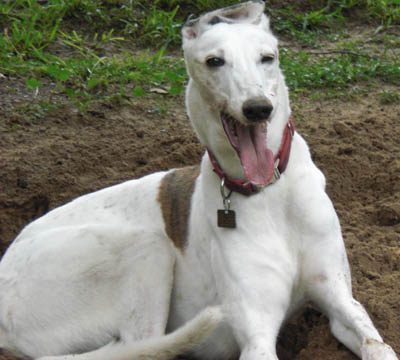 Gilbert deserves something to be written about him as he was a special boy. Many people decided to adopt a greyhound from me after meeting Gilbert as he was that special.
I brought him up from Dairyland Track in Nov 2003, he was just 2, a baby. He was adopted by a lady in Edmonton and lived with her until April 2009 when he was returned, because she no longer had time for him. When he came to my house, he just settled in. He was 7.5 years old. He came back with an inner ear infection, which I had treated. If you look at his picture, you can see the results, his right ear was paralyzed, sitting across his head permanently, along with some slight paralysis to the right side of his face. You can see the difference when looking at his eyes. But no matter, it all suited Gilbert.
He, like all returns was available to be readopted but there were no takers, so he joined my pack. He and Raven were very similar and after Raven passed away in June 2010, he assumed the commander of toys position within the pack. Gilbert was the extroverted, in your face, roaching, goofy greyhound who loved to talk. He loved everybody and everyone loved him, to a point where I was being asked if they could adopt him. Gilbert loved being part of the pack, guarding the yard, barking at and chasing any interlopers of any animal species that entered his domain.
He ran, he barked and threw caution to the wind, life was for living for him, no matter his age. He broke his femur in March 2012 playing with a stuffy, after hitting the side of a TV stand. He had surgery and had his leg repaired. He regained his mobility a couple of days after surgery and healed wonderfully. He injured his knee on his surgically repaired leg, in early July which slowed him down a bit, since it was the same leg, running on 3 good legs became the norm. With time his knee healed.
Then came Osteosarcoma in his proximal humerus in early September, identical to Raven and Peanut. He pushed on, being Gilbert not letting anything stop his daily patrols of the property and barking at the neighbors dog whom he let know that he was the big dog here. The day finally came, he was tired, the medications no longer helped and it was time to move on, he told me it was time and as I have in the past with all of my hounds, I obliged him. He passed outside, under a tree with the help of the vet who did his surgery, on a warm, overcast, sort of gloomy day, with little raindrops later in the day. The raindrops were very fitting, mourning the loss of my lovely goofball, Gilbert.