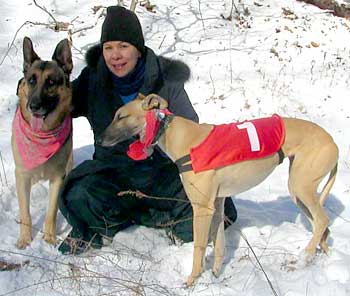 After a short and lackluster racing career (she preferred gentleness to competition), Gable was rescued from a South Texas racing track, treated for a tickborne illness while in the nurturing foster home of Cheryl and Brian Dumble. She was welcomed into her forever home in June of 2004. Shy and timid at first, she gradually warmed up to all her new housemates, and learned to prefer the living room futon and the "big bed" over her little cage in the corner. At night, she was always the first to pick out her space on the bed, and could never really be persuaded to share this space... She developed a love of fresh bananas which were generally in abundant supply since her best friend Rony, the big dopey German Shepherd did not like them at all.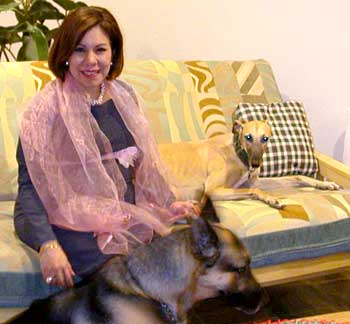 With Rony, Laura and Len, she quickly learned to love more than anything else her frequent trips to the wooded trails around the nearby lake. The slightest jingle of a leash being taken from its hook or the sight of someone putting on their jogging shoes always sent her into convulsions of enthusiasm.
It was during one of these treks around her lake that she was taken from us long before we were ready to say goodbye. Just a few blocks from her house, she spotted something interesting running away from her on the opposite side of a busy street. As a greyhound, she did exactly what she was meant to do, breaking free from the loose grip of her master as she did. Her angle of pursuit placed her directly in the path of a speeding pickup truck. Neither saw the other, neither had the opportunity to brake or change course. The impact was clean, and the outcome was immediate...
Back at the house, Rony attended the backyard burial, sitting forlornly through it all. Afterwards, he retrated into Gable's now empty cage, where he remained for hours and hours.
Though her retirement was far too short, she lived it well, and she will always be remembered by those who loved her, by those whose lives were made much brighter by her presence.