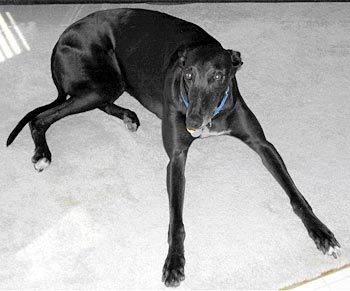 Escalade went to the Rainbow Bridge on January 15, 2009, and for those of you who knew Escalade, he did not arrive discretely. No, we can only imagine that his entry was quite a sight! We were only graced with Escalade's (a.k.a. The Dude; E-Dog) presence for 2 ½ years, but what a full two and a half years it was.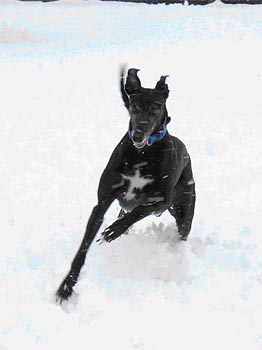 Escalade was the 2nd Grey to join our family, about one year after adopting Dipper. Dipper was quite reserved to say the least and Escalade really helped him come out of his shell. When we adopted Escalade we underestimated the stories of him jumping up on a dining room table during his cat tolerance test and of him eating cherry tomatoes. I believe the politically correct term for him was "full of spirit". And, boy, was he. He loved people, and the more the better. He loved other Greys too, although Dipper was never quite the playmate Escalade wanted. Dipper turned into "lawn art" when Escalade would chase him. So it was trips to the dog park that had to suffice until Kayla, our third Grey, entered his life. Despite her shyness towards people, she and Escalade really clicked. Based on how hard they chased each other, you couldn't guess that Escalade was 8 and Kayla only 3. Kayla brought a ton of happiness and excitement to Escalade's last months.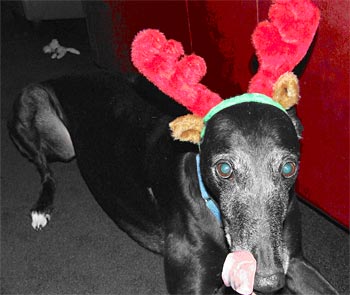 Escalade was diagnosed with bone cancer on New Year's Eve 2008. The cancer was too aggressive to consider any other option but to bring him home and give him all of the love and treats (dried waffles were his favorite!) he could stand. We are better humans for having had Escalade in our lives, and his contagious energy and unconditional love will be deeply missed.