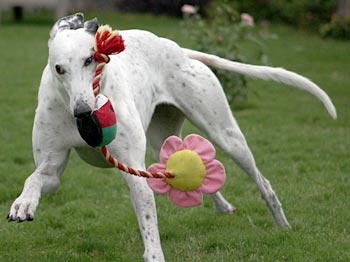 Dear friends,
My beautiful Elle, aka Highlife Debbie, died this afternoon. She was 11 years old and has been with me for 9 years since I adopted her at Dairyland Racetrack in Wisconsin.
Elle taught me how profound a friendship with a dog can be. She brought so much good into my life, and loving her made me a better person. She put her paw print deep in my heart, and I will never forget her. Because of her, I adopted 2 other greyhounds, and now only Trip and Katie (my Basset Hound) remain. Three noble greyhounds, Clara, Bishop and Elle, now have crossed my broken heart, their bridge to eternity, and taken an irreplaceable part of me with them.
Over a month ago Elle was found to have lung cancer incidentally upon having her teeth cleaned. She has been comfortable and pain-free and "herself" for the past days, until the very end. I was so anxious and worried about recognizing the right moment to let her go, but Elle in her own sweet way, told me when she was ready as clearly and gently as she could. She stopped eating, and turned down everything, finally refusing to drink as well. She waited patiently for me to understand. And she kissed me goodbye before she died in my arms this afternoon. I am grateful to my vet for coming to my home, and his compassionate care and help in the past month for both Elle and me, and to all of you who have held us in your thoughts in these recent difficult days.
Tim