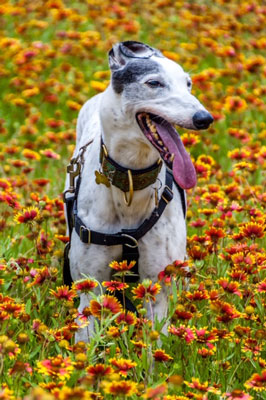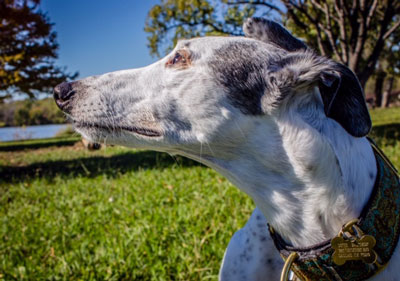 It is with a very heavy heart that I let you know sweet, sweet spotty Dotty crossed the rainbow bridge Wednesday, Dec. 18. 🌈 We had just celebrated her 15 ½ birthday -WOW- that Sunday with her friends and her favorite yummy treats of course!
She was such a SPECIAL girl and I loved her so so much. I recently reflected on the day I met her outside of Whole Earth Provisions back in Nov 2007 at a Meet and Greet. She was the one that picked me that day when she was so nervous trying to hide by the table with those lil tuffs of white fur flying in the air. The moment she walked up to me and leaned in, my heart melted and I knew my world would change for the better because of her! Boy, did we have some adventures! I am so lucky to have accidently discovered GALT so many years ago and the magical work you all do! I am beyond grateful you entrusted sweet Dotty to me. I celebrate the joyous life she had and how far she came from being found sick and pregnant. She was always such a strong girl. She was loved by so many canines and humans alike! She had such a mild, sweet temperament and was always looking to make a new friend. However, I do remember her giving silly River Rockin a piece of her mind when he went out on his month "vaca." She also used to only sit on his blanket when they participated in the Greyhounds 101 class together. That silly girl! She was funny and a little bit of a flirt. 😊 That never changed. Lol! In her super senior years, she even cohabitated with a little black kitty-York! We fostered this little kitten from when he had been found all alone and was less than a pound. They became the funniest odd couple and of course we ended up keeping him! He would curl up and rest with Dotty and even try to groom her. Not only did she get to raise a kitty but she also was quite the helper when my niece was born a few years ago. She would stay with my sister and baby Caroline and of course her partner in crime for so long (and once foster brudder) Carter while I was at work. Dots naturally had such a nurturing spirit.
I am also especially grateful for the care of Dr. Ellis as she got older and her anxiety grew stronger towards visits to the clinic. Being able to have him come to us made the world of difference over these past couple years and even at the very end. I remember him commenting how she seemed like a completely different dog when she was in the comfort of her own home. I appreciate him and his kindness more than I can ever express!! It was always my goal to do what was best for her!
Loosing her is so very hard but I know she brought a smile to so many and I celebrate the fact that we had the opportunity to make so many memories over the past 12 years!! I know she is once again running free with old and new friends.
Broken hearted,
Katrin Tucker