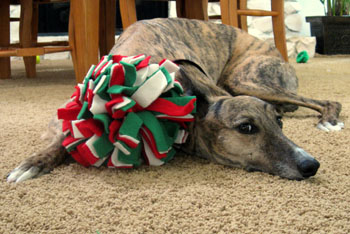 Delilah, aka Cosey Tigress, was born on November 23, 2002. She declined a racing career after only a few training races. She was then adopted and surrendered, so we don't know anything about that part of her life. She joined our family on February 10, 2008, and left us for the rainbow bridge on February 10, 2012, exactly four years later.
She was our first greyhound - we adopted her together with Jezebel, but this outgoing girl raced into our hearts first, followed closely by Jez.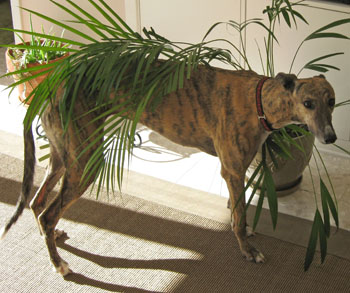 Our little girl, our Delilah-bear, our Lilah, our Dee, our Princess. The occasional digger, the best "sit" in the house, the trancer under our palm plants, the play partner of many a foster dog, the never-met-a-stranger girl, the "I want to go this way" walk director, the incorrigible jump-up-on-people dog, the sunshine in our day, our love.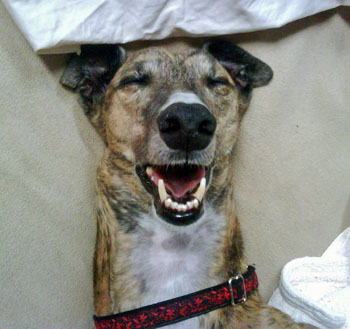 Our silly, fabulous, hard-headed, always-there-with-a-kiss girl. When we got her diagnosis of cancer a year ago, we were devastated. When she responded well to her chemo treatments, we were thrilled. When she started to decline a few weeks ago, we were destroyed once again. But every extra day this past year has been a gift.
Cancer took her away from our home, but can never take her out of our hearts.
Jennifer & David Vilches