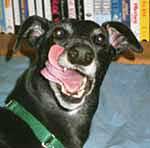 Cody ("Bob's Fax-It") was born in September of 1994 and chosen (because he was the only greyhound out of more than 15 to not be instantly disliked by Annie) in July of 2000, by his fur-sisters Annie and Kelsey. He went to the Rainbow Bridge July 1, 2007.
Cody was an instant hit with the neighborhood kids. Although his right rear hock was broken during his final race many years earlier, his face lit up when his little friends came over daily to walk this gentle giant up and down the street. He limped because the break had never been set, but eagerly looked forward to his time with the kids, and loved the attention they all showered on him.
Cody showed the vet's staff how calm and accepting a big dog could be when new techs and students examined him. He was the first greyhound many of them had ever met.
Cody loved the dog park, and cried like his heart was breaking while watching labs and goldens play in White Rock Lake. He was so unbelievably pathetic that strangers would volunteer to help him in and out of the lake just so he could join the other dogs. He was famous at the dog park for his ability to wallow in any available mud hole, and for ramming his needle nose into unsuspecting peoples' crotches in a bid for attention.
Cody made us all laugh. He had a way of sighing through closed lips, making snuffling noises like a horse. He'd groan loudly with great satisfaction when lying down. But his absolute favorite trick was to sneak up to people with a look of bliss on his face, getting as close to their face as possible as if preparing to gently kiss them, and then belch like a sailor!
This amazing boy taught basic house manners to more than 40 GALT fosters; he was a perfect example of how to be a house pet and how to love one another. He was precious - calm, sweet, silly, goofy, funny, and an excellent greyhound goodwill ambassador to the world.
Run like a bunny, Cody Bear Bengelsdorf, with Wilson, Mandy, and Kelsey.
Until we meet again.
We love you!
Lisa, Annie, Murphy, and Marty