"Our Sweet Celine"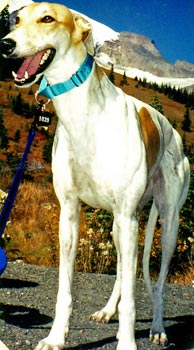 "If tears could build a stairway, and memories a lane, I'd walk right up to Heaven and bring you home again."
Thank you all for all your loving support and prayers during this difficult time for our family.
Three weeks ago we were given the unfortunate news that our sweet girl, dear friend, and companion was sick. During our walks we noticed that Celine would become more easily tired, initially we attributed to her age and the heat of the sun. During a walk to the park in early June, we took her to the ball fields and took her off her leash to let her run like the wind, and to our disappointment she wouldn't run. We took her to the vet to learn that she was severely anemic with a large mass, most likely cancer in her abdomen. Transfusions and exploratory surgery were an option available, but not one our vet was encouraging.
Celine was born and lived the first three years of her life on a farm with open fields. In our home she lived like a queen where she has a bed in every room. She had routines where she would move from one bed to another during the day. She really enjoyed laying in the sun room looking out the windows. Sometimes she would lie on her bed on the floor and at other times she would get up on the chaise to get a better view of the yard. She enjoyed the yard and would take notice of any new flowers as they bloomed, taking the time to smell each of them. While sitting on the deck she could often be observed gracefully watching the koi and goldfish in the ponds. One of her greatest joys was her daily walk on the nearby nature trail, it was the highlight of our day also to walk with her and see how happy that outing would make her.
Five years ago Celine joined our family. She wasn't like any dog I had ever seen. She never barks and was always there with a smile, happy to see you. She had a calm and accepting temperament, allowing children to hug and climb on her without complaint. She never once nipped at another animal and showed caring interest in the small animals that frequented our yard, sitting for hours watching the birds (the only exception is that she seemed to really not like cats). She didn't jump up on us. She would gently press her head into our chest or wrap her neck around ours when giving affection. When you would pet her she would out stretch her neck and make a sound which could only be described as purring. It didn't take very long before she became such a part of our life that I not only understood those "Dog People," I became one.
She was very uncomfortable in kennels and pens. Putting her in a hospital to undergo a painful surgery would have been a traumatic event that she would most likely never recover from psychologically. The vet also acknowledged that with the mass involving her spleen that she would most likely not even survive the surgery if it was attempted. He told us that our beloved girl was going to die in a matter of days.
We honored her life by bringing her home, to her home. She was treated to every desire she wanted. She is a huge fan of Krispy Kreme doughnuts, especially powdered strawberry-filled and the apple fritters. Pralines and cream ice cream disappeared from my bowl when she discovered it.
Several days after our visit to the vet she was having a bad day. She was sleeping on one of her beds in the dining room and wasn't even eating her treats. We were afraid that her end was very near. Several hours later I was putting her leash away and as her tags jingled I heard the gallop of her feet on the marble floors and she ran to my side with the wide open smile she always has when she was going for her walk. During the past three weeks she would have ups and downs. I was very fortunate during this period of time to have time off from work to be with Kimberly, Celine, and Scarlett. We spent many hours sitting on the lawn in the shade of the trees. We took short walks whenever she wanted one.
Monday afternoon we made a day of it. We all went to her favorite park where she was able to walk among the big fir trees. She walked in the grass and then laid in the sun fully outstretched and relaxed. Afterwards we drove to Dairy Queen where she enjoyed a large soft serve ice cream while we drove on the old country roads with the windows down. Such a busy day left her exhausted when we got home, and she and I took a long nap on the chaise in the sun room for hours before going to bed.
Tuesday morning she was moving slower and needed more help with her balance. I would carry her outside when she needed to go and helped her into whatever bed she wanted. That afternoon we were all in the sunroom together and while laying in our arms on the chaise she took her final breath and left us. Our days are always going to feel empty, but we were very lucky to have her in our lives. I have developed a much better ability to show compassion to my patients because of my time with Celine.
Because she formed such a close bond with Celine, Kimberly developed a deeper compassion for all animals which steered both of us to a vegetarian diet. I never understood "Dog People" – those people who make their dog a part of their daily life, people that call in sick to work to care for their dog, people that talk about their dog as a family member. I had always had dogs in the past, dogs that slept outside and played with me once in a while, dogs that were good companions but in the end they were dogs.
If you should encounter anyone looking for a new dog I would highly recommend a greyhound. They are unlike any dog you have ever known. They prefer their own space most of the day, they are quiet and loving. They don't seem to know that they are, in fact, dogs.
Love, Brad