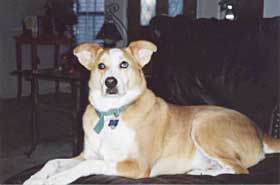 When I first met Buster he was 8 weeks old and had just arrived at a shelter after having been found in a garbage can. His first few weeks were very traumatic and it impacted him his entire life.
Buster was a handsome boy and people were drawn to him. He didn't have too much trouble finding a home, just staying in one. He was adopted many times but always returned for the same reason, biting one of his new family members. At two years of age, he had earned a bad reputation and became unadoptable.
I had spent time with him each time he was returned and had developed a fondness for him. When the time came that he had nowhere else to go, hesitantly, I took him home. Life with Buster was challenging at times, but I loved him and he loved me. He grew to trust me but with limits and I respected that.
He was a character and had developed a fondness for my shoes. If I ever left a shoe within his reach he would find it and became obsessed with it. He would walk around the house with his shoe almost as if he was showing it off to the other dogs. Little did he know they didn't care about his shoe. The shoe would go everywhere with him, even outside. When he was tired of carrying it around he would retreat to his throne (the couch) and use it as his pillow.
My Buster left me and this world peacefully, with his head in my lap. Now I won't be missing any more shoes, I will just be missing my sweet boy.
I miss you Buster,
Mom, aka Debi Joynt