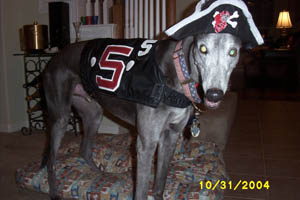 BlueJay, came into his forever home from G.A.L.T. in December 2001. He shared his spirit and love with his new adoptive parents, and their friends, through thick and thin.
This morning, October 3, 2008, at 8:45 BlueJay crossed the Rainbow Bridge to romp and play with so many of his friends. He will be lovingly remembered as a true friend and companion.
Thank you to Dr. Joe Tomlinson and his caring staff at the Northwest Plaza Animal Hospital in Grapevine.
Brian Dumble