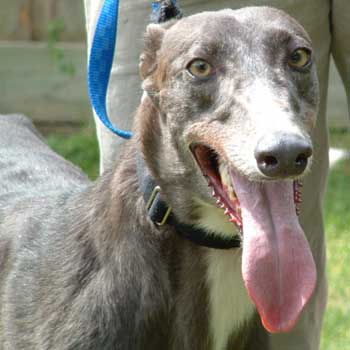 We called you "Blue Bear" and more often "Boo" because your hazel eyes with silvery soft puppy- looking ears flopping forward gave you an almost comical expression like you were saying "boo!"
Only 6 years young, one week ago today you have gone from us. Your diagnosis after rushing you to the vet with a sudden belly-ache that just wouldn't go away was lymphoma, inoperable with a large mass on your pancreas and liver. None of us saw this coming. So sudden, so unexpected – two clean bills of health, shots from Dr. Murphy in July – the other for a strange "corn" on your paw that Dr. Soileau removed August 7th. Perhaps God in his mercy kept you symptom–free and healthy for us to love you right up until it was time for you to go.
We never really got to say goodbye to you. Dr. Bourque at the Emergency Animal Hospital in Plano made you comfortable and watched you throughout the night with painkillers and fluids. The next morning, Dr. Bronstad with the VCA Animal Diagnostic Clinic took over with more tests to try to find a cause. You were still sleepy from the biopsy anesthesia when at 3 PM Dr. Bronstad called to confirm the bad news. Even if I rushed to your side the 20 miles through traffic, by the time I got to you, you would be more awake, see your mom and think it was time to go home. Not this time my sweet little Blue Bear. We gave you back to God, praising Him for allowing us to have even this short sweet 4 years time together. And for the Doctors and staff and friends that loved us and you with prayers on your journey...
It was love at first sight. We had adopted Tricky and not sure about another greyhound – perhaps a smaller dog. We had already put up a deposit for a puppy – a little red female whippet. Then I heard the story about Blue – about 18 months old, how she came back to Galt after almost bleeding to death at her adopted home when she pulled her spay stiches out. She had horrible separation anxiety - left alone during the workday. It broke my heart – such a young little girl and already so much suffering. Several people told me she was "wild" - a crazy blue girl with yellow eyes.
Nah! She just needs the right home and a big sister like Tricky to teach her the ropes! We arranged to meet her at Suzanne & Shawn's house very soon after. It was in the evening after work. While they came to the door to greet us, Blue in the back yard, promptly fell into their shallow play pool, and got herself right back out before we made it to the back yard. All of 5 minutes... there we found her on the deck soaking wet, lying like a sphynx trying to look like nothing at all happened! That's when I knew for sure she was coming home with us.
Tricky, our giant (for a girl) alpha female thinks she is every other dog's mom! As long as the dog is her size or smaller, she doesn't care, she bosses and protects them, never using anything other than her brute strength or an occasional growl to reinforce the point. Blue flourished in our home...with kitties, her big sister Tricky, her mom and dad.
Blue's big pillow in front of the fireplace is still there next to Tricky's. Her crate with the soft mattress, clean blanket and "curtains" is still there right next to Tricky's. I don't have the heart to move either of them. Tricky whines a little at times and takes turns laying on Blue's cushion and peeking into her crate. Oddly, the first night Blue was gone, Cinamin, our rescued kitty slept in Blue's crate next to Tricky for almost the whole night. Very strange behavior for a cat.
Fly away my little Blue Bear, fly away home. Until we meet again.
With love and sincerest gratitude to the Vets, Technicians, Friends and Family for your thoughts and prayers.
Annette & Jim Hall
Sept. 2, 2008