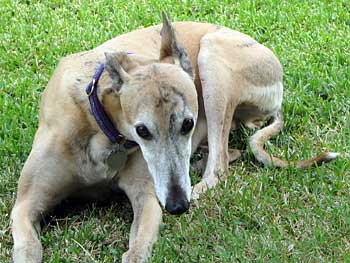 Goodbye to my beloved Bishop
Dear friends,
I am completely heartbroken and crestfallen to tell you that I was forced to send my beautiful boy, Bishop, across the bridge. His pain had become uncontrolllable from osteosarcoma. Bishop had a very low tolerance for pain, and my promise to him, which proved so painful to keep, was that I would not let him suffer or let his life end in pain. Bish suffered intermitent pain episodes for about 6 months, but his quality of life was wonderful in the in-between times, until the last couple weeks. His pain became acute at the very end, but I am grateful that he didn't experience a broken bone. He cried and was confused and hurting. He couldn't eat or sleep. He could barely get up by himself. But he looked at me out of that pain with eyes of trust; he knew how very much I loved him and how special to me he was and always will be. He died in my arms, comfortably and peacefully. He smiled at me at the end.
My boy, Bishop, bringer of joy and hope and laughter. I have countless memories of him emblazened in my heart. He loved to run and play and get into things. He was full of zest for life. He brought more laughter than I could ever measure. He brought healing to me and my dear Elle after the loss of my greyhound, Clara; oh, and to me more than once. I love him dearly with all my heart. He bonded strongly with my boy, Trip, and they played together fiercely until Bish was no longer able to run. And with my girl, Katie, too, he had a special bond. We were a tight family.
Counter-surfer extraordinaire, he could steal a loaf of French bread from the top of the fridge, and did so more than once. Bishop got into so much mischief that I had to invent a new word, "Bischief," to mean something so unpredictably and creatively mischievous, that only he could be the culprit out of all my dogs... like when he tore into the bag of organic fertilizer in my bed and rubbed it all over himself and the bedspread, a couple pounds of manure, at least. Or when he peed to my great embarrassment on his examiner's umbrella the very day he passed his Canine Good Citizenship test. Bish was great at embarrassing me, in fact. Once in the dog park, he sat directly in front of some lady unknown to us, and when I shouted, "Bish, what are you staring at?" this lady took offense, as she thought I said something else, something not very nice, directed at her. That was my Bishop; he brought a daily surprise of laughter to my life.
Bishop's life was too short. I am so grateful to have shared a few brief years with him. After his retirement from racing and a short stay in a loving GALT foster home, Bishop became a part of my family. He brought so much goodness into my life. I will carry my gratitude for the gift his noble and beautiful presence with me the rest of my own days. This amazing creature came down from heaven for a brief stay and changed my heart and life forever.
Run free, Bishop my sweet beautiful, beloved friend, with winged feet, but never far from me!
Your loving dad, Tim