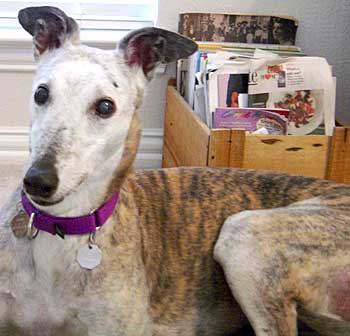 A year ago, at Greyhound Planet Day, our granddaughter, Stephanie released Getty's red memorial balloon and finally said good-bye. Later that day, she took Getty's beloved gray teddy off its shelf and gave it and her heart to Andy. Today, the gray teddy is back on the shelf. Our Andy has gone to the Bridge.
He was a lucky dog. Rare in the world of greys, he was adopted, as best we know, at a very early age - a puppy - to a loving family. He lived with them for 12 years, until illness forced them to make the agonizing choice to give him up. It was clear, when his paperwork eventually caught up with us, that he had been not just loved, but cherished. A four-page handwritten note detailing his favorites - his favorite toy, favorite snack, favorite sleep shirt - had been sent with him. Unfortunately somewhere along the line, those items did not make it to our home.
Andy's inconsolable grief at leaving what he had known for so many years, manifested itself in constant pacing and whining. His first foster home reluctantly gave him over to us, as we were noted for working with seniors. After a few weeks he settled down and then was placed in a loving forever home - we thought. Although his new family worked hard with him, the grieving simply became too upsetting to the other greys in the family - so Andy came back to us. He walked back in our door, laid down on his bed, and looked at us as if to say "Made you take me back!" And we did.
Each dog brings a gift. Getty taught Stephanie to love - Andy taught her even when your heart is broken, you can love again. Someday, somewhere...the old gray teddy will once again come off the shelf.
Ty and Jeff Lawrence