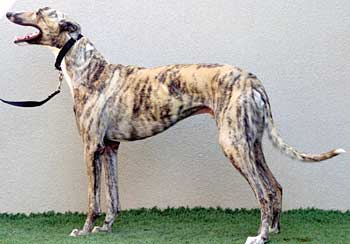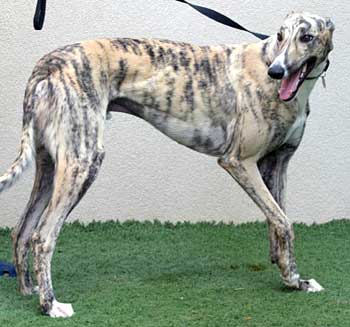 Brady, aka Gil's Bravo, is a handsome, light brindle, 15-month-old male born June 5, 2006. His sire is Flying Newport, making his grand sire the famous Flying Train, and his dam is Tulin Destiny. It was determined very early that Brady would not graduate to formal schooling as he was afraid of the lure! He is certainly not that shy with people, and is getting his bearings on life as a companion pet. It is not known if Brady is small dog tolerant.
Observations from a cat test: Brady wasn't interested in the cats at first...got to sniff Dom as he was up on the dryer, eating. Once he saw Slate get up and move, Brady became VERY interested. Later, as he found places where the cats typically lay, he really put his nose into it. His muzzle was on, but it was taken off when he seemed OK. Then it went back on with the heightened interest. That way, he could get in a good sniff while the cat was sitting still without the opportunity to snap. He didn't want to take his eyes off Dom under the end table, but he finally looked away. The house environment offered many new sites and smells. A few seconds later, he would be intrigued with where he saw the cat last. I would not trust Brady with cats.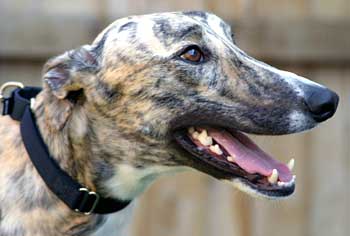 This big, GORGEOUS brindle boy loves to play with other dogs and showed an interest in toys during his visit. He's quite active, but isn't sure what to think about getting in and out of the back of an SUV. The winged window and door freak him out a little. So much to learn about this new world outside the kennel!