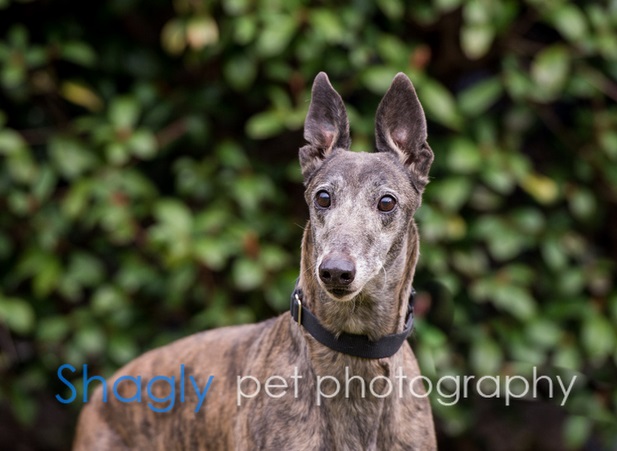 Boop, aka PTL Betty Boop, is an almost 10-year-old brindle female born May 27, 2006. Her sire is Stan's Boy Flyer and her dam is GF's Baby Cake. Boop had a long racing career and then retired to mother several litters of puppies. There are three litters on record at Greyhound-data.org: one in July 2011 with Oshkosh Slammer, one in May 2012 with Kiowa Mon Manny, and one in October 2013 with Rythmless. Boop orignally tested positive to the tick-borne disease Ehrlichia Canis - she was successfully treated for this in 2015. Boop was in a home for a year, but wasn't happy as an only dog, so she has returned to GALT to resume her forever home search.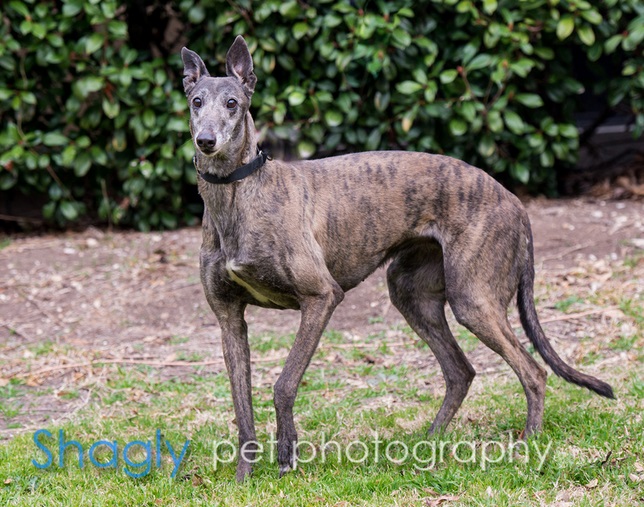 Boop has passed an initial cat test, and is living with cats in her foster home.
UPDATE 3/3/15
Dr. Aaron Wages and Dr. Jeff Ellis of VCA Preston Park Animal Hospital detected a heart murmur when examining Boop. An EKG was performed, and she is being referred to Dr. Kelly Nitsche of Animal Diagnostic Clinic for an echocardiogram on Thursday, March 5.
UPDATE 3/6/15
The echocardiogram performed by Dr. Nitsche revealed no significant structural or functional abnormalities. It is possible that the prior rhythm abnormalities were associated with the Ehrlichia status, and that the doxycycline therapy has begun to resolve the inflammation seen on the echocardiogram. No specific cardiac therapy is indicated at this point other that the continuation of the six week course of doxycycline.
UPDATE 4/30/15
Boop has completed her successful treatment for Ehrlichia Canis and is ready for the rest of her medical procedures.
UPDATE 5/13/15
Boop's medical procedures have been completed, and she is ready to find her forever home!