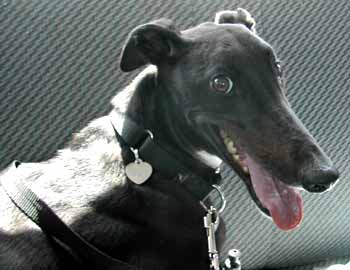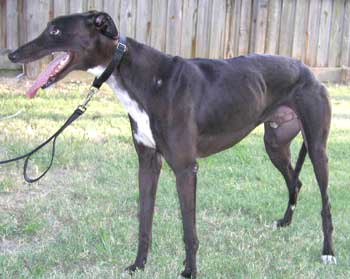 Bobby is a small, black, 3½-year-old male with a white chest and throat. It was decided early on that he was not competitive in the racing arena. Bobby's adjustment to home life from kennel life took some time, as he is a shy boy, and he needs a forever home that is patient and dog savvy with a quiet and structured environment. Bobby is not cat or small animal tolerant and will do best in a home without children.
Bobby needs a special home that will work with him and the reward system based on "nothing in life is free" and specific boundaries. He is a sweet, loving and affectionate boy who will blossom and thrive in the right environment.
All the greyhounds who are housed at GALT's boarding facilities receive daily visits from GALT's trainer Teresa Sterling. Here are some notes from Teresa about Bobby:
Bobby needs a very structured routine. He responds very well to what his needs are, and he will let you know if you forget to feed him! He is very food motivated and is learning his obedience commands very quickly. Bobby loves a soft, soft bed!