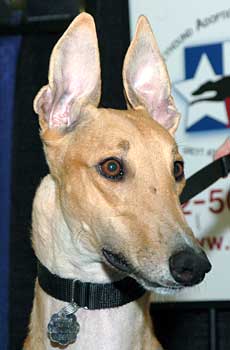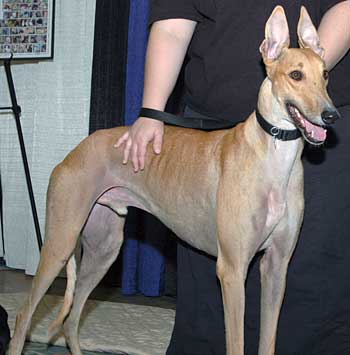 Bo is a red, 2-year-old male, turned in as a stray to the Lancaster Shelter. As with all Greyhounds discovered as strays, an effort is made to contact the original owner by using the ear tattoos to identify the dog. In Bo's case, his birthday can be determined from his right ear tattoo which clearly reads 34C. This means Bo was born in March of 2004; the letter 'C' indicates he was the third dog tattooed in his litter. The litter registration and original owner are traced by the tattoo in the left ear. In Bo's case, however, the left ear tattoo was made illegible by overlaying it with a second tattoo. Double tattooing is a common technique used to prevent owner identification when a greyhound is illegally raced in non-NGA sanctioned events.
Bo arrived wearing a collar with the name C ya Bojangles stamped on it. Thinking this could be his registered name, a database search uncovered a match, but for a dog with a July 2002 birthday...4 months too late. Bo was named in honor of the greyhound who donated the collar.
Bo's coat looks as though it was shaved, something else commonly seen with dogs used for illegal racing. But now that he is settling into homelife with his foster family, Bo's hair will grow in and he will put on some much needed weight. A sweet dog, happy to finally have a name, Bo just needs a home of his own to make life perfect. He is peacefully living in a foster home with cats and other greyhounds, but has not yet had an opportunity to meet small dogs.
Dear sweet Bo, or Bo-Bo as we affectionately call him, is a very sweet and loving boy. He melts your heart when he looks at you with those soulful, amber eyes of his. He is very affectionate and loves to be hugged and loved on. He has the cutest ears which can stand straight up, side-by-side at attention.

Bo came to us after being picked up as a stray and did not have a lot of energy, but the more weight and strength he gains, the more his personality comes out and the more playful he becomes. He loves to eat and is still getting extra food to put on more weight. He is not a messy eater.

Bo has a quiet, gentle personality and is content to be close to 'his' people, curling up or 'roaching' on a dog bed. He will lay his head in your hands and let you scratch his ears for a long time. He likes to play with, and gets along well with, the other dogs at our house and pretty much ignores the cats. Bo will come running when you call him too – there just might be treats.

Bo likes to go for walks and he walks well on a leash. He plays with toys a little bit, but he is just too dignified to allow you to see him playing too much. He is scared of loud noises, especially the vacuum cleaner. He needs some reassurance around new things or new activities in the house. If he is not sure what is going on and feels uncomfortable with a situation, he will look at you with those sweet expressive eyes and start backing up.

It only takes a quiet "No!" to get him to stop doing something that he should not be doing. He is a very sensitive boy and seems to gets his feelings hurt if he is corrected. He has good house manners. We are working on learning how he is letting us know he has to go potty, because when he has to go, he has to go now. He does not mind being in his crate and will sometimes go in it to have a nap. At night he sleeps quietly on a dog bed in the bedroom.

Bo-Bo is enjoying retirement and being off the streets and would love to have his own special forever home and family to love him. I think he would enjoy having a fur-brother or sister to help him be more confident, but would probably be okay with lots of love and gentle guidance from his humans. If the sweet, sensitive, loving type is for you, Bo might be your perfect boy.

Bo's foster mom