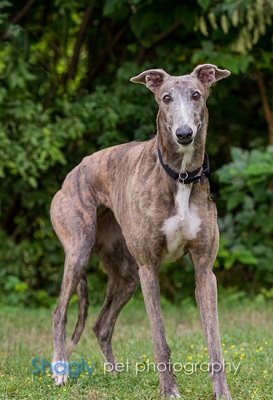 Blu, aka Turbo Blu By All, is a 4-year-old blue brindle female born January 9, 2011. Her sire is Distant Monalee and her dam is Fuzzys Virginia. Blu has no races on record, instead going straight to motherhood. There are two litters on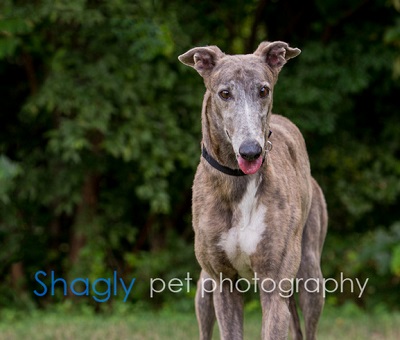 record at Greyhound-data.org: one in March 2013 with sire Mustang Zapper and one in October 2013 with sire Flying Coal City.
Blu has not yet been tested with cats or other small animals.
Blu is MUCH more gorgeous than her picture. It doesn't show her conformation and the chevrons of her blue brindle, the softness of her coat, and her happy demeanor. She is just catch-your-breath stunning. When we picked her up from the kennel, she walked straight over to us and put her head in our laps for a cuddle. No hesitation when leaving, and no anxiety getting into the car. Yep, she is a sweet Velcro dog. She just wants to be loved and petted and loved. She tries to herd us to get us to rub her ears and love her more. She has chosen the dog bed in her crate, which is near our bedroom, along with one in the living room as her special places.

Blu is stubborn and not very treat motivated, so she's been a challenge to train. But her behavoir is mostly fine and she is really, really sweet. She rides in the car well. She's getting along fine with our beagle. But she is very prey motivated with our bird, which fits in with her view of cats too. Blu is a tall girl and is very intersted in anything in reach on the counters - we're really working on getting her to understand "no!"

She doesn't beg for food, jump up on people, or get on the furniture. Blu has good house manners. She handles short flights of stairs well. She is not protective of her food bowl. This gorgeous lady would be a great fit for a family with no small pets.

Blu's Foster Family