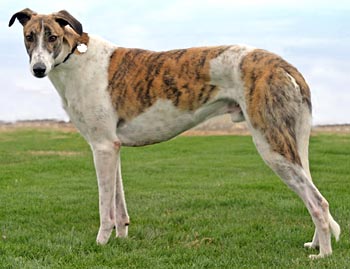 Benny, aka RJ's Benny, is a 2-year-old white-and-brindle male born January 28, 2008. His sire is Kiowa Sweet Trey, and his dam is RJ's Banannasplit, making Tami and Benny siblings! Benny, like Tami, had absolutely NO interest in the racing life, but is ready to find his forever home. Benny is surprisingly laid back for a two-year-old! Benny is cat tolerant, but has not yet been tested with small animals.
Benny is a big goofy guy who always has a huge grin on his face. He LOVES his stuffies! He takes one out of the toy box, trots to the next room, lays down with it and chews a bit to hear the squeak, jumps back up and trots to a different room, lays down with it again and starts all over. If he shakes it and flips it out of his reach he sort of grunts at it before he goes to retrieve it. He will repeat this until all of the toys are out of the toy box and on the floor.

He likes to see everything that is going on, but seems content to find a strategic spot in the house where he can watch the action, and doesn't feel the need to follow me from room to room... unless its time for a walk, and then he gets VERY excited! He loves to take a walk and wants to meet EVERY person he encounters, even small children. He is very affectionate with strangers, and sometimes tries to rub his face on them, like a cat.

Benny is pretty active when awake, very curious and lively. Of course, being a greyhound, he loves a good snooze. He will nap wherever he happens to get tired; a dog bed, the carpet, the hardwood floor. He's not very picky about the "where." He does get crated while I'm at work and although he doesn't love the crate he gets in with just a little prompting. At night he sleeps on a dog bed in the bedroom and easily sleeps through the night. He must have some kind of internal clock because on the weekends he still wakes me up at the same time every morning, whether I have to go to work or not! Luckily, as soon as he's gone outside and had his breakfast he is happy to take a nap so I can too.

Benny's house-training is coming along very well. He will pace a little to let me know he needs to go outside. He learned he is not allowed on the couch or bed on his first day here and has not tried to get on the furniture since then. He does think that dishtowels are his own personal property and I'm working on convincing him otherwise. He doesn't destroy them but he likes to "relocate" them when he can. Nobody is perfect!

Benny seems to be a perfect balance between playful and laid back and would do fine as an only dog or as part of a "pack." He is not territorial about his food or toys and shares very well with my greyhound. He leaves the cats alone, although I think he wishes they would be nicer to him and not swat at him or hiss! He will make a wonderful addition to a VERY lucky family.

Benny's Foster Mom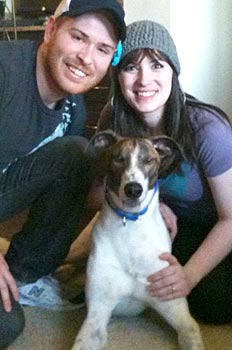 Benny with his new family!