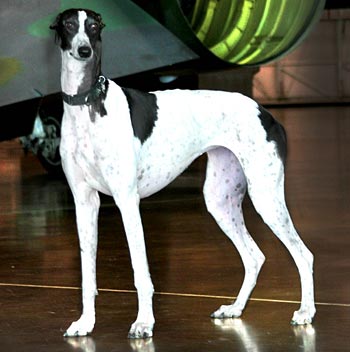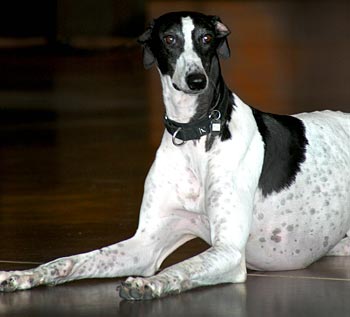 Belle is an approximately three-year-old, small, white and black female and was an owner surrender. Nothing is known about her past. She is a very smart girl who knows "sit, down and shake" on command! Belle has lots of energy and loves to play ball! She would do well in an active household or one where she would have the opportunity to expend some energy going on walks or chasing the tennis ball! However, as a typical greyhound, she does love a good snooze too! As a victim of "happy tail" Belle's white and black tail is now short - in fact it vibrates like a tuning fork now! Belle is not cat trainable.
Belle is a beautiful, three-year-old, black and white female with a cute personality. "Girls just wanna have fun" might as well have been written just for her - she's a flirt and quite drawn to men. She has the energy and curiosity of a two year old. She is always ready to zoom after her favorite squeaky ball in the back yard or play a game of tag (good luck catching her!) She loves our extensive toy collection, especially the ones that squeak. She likes to hide all the squeakies in her crate. She never tires of trying to get the other dogs to play with her, and gets along beautifully with them.

Belle is also a gentle and loving girl. When her energy has been used up she is content to relax on one of her beds and will always roll over for a tummy rub when you come near. She is also quite the roacher and will gladly pose for you on her back for a while (with a cute smile to boot). When it's bedtime she sleeps soundly through the night in her crate. In the morning she is recharged and ready for the day.

Belle loves her crate. She is house trained and hasn't had any accidents. She will also sit, shake and lay down on command. She is quite curious and has no qualms about seeing what might be up on the kitchen counters so we are trying to convince her that this is off limits.

Belle loves a good meal and really is the best of both worlds, an active youngster and also a gentle soul, a bundle of energy or curled up in your lap (or next to your lap, she's a little big to fit right on your lap, but she'll sure try). Wouldn't you like to bring Belle home to her forever home?