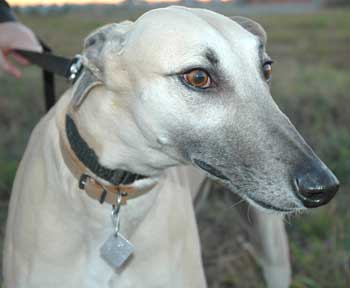 Bear, aka Krazy Madman, is a handsome light fawn 3-year-old male, born November 9, 2001. His sire is Gable Dodge, and his dam is Snowladybydesign. GALT was contacted by a wonderful lady, Connie, from Ranger, TX to see if Bear could be accepted into GALT's program. Bear was given to Connie in July 2004 by a kind man who rescued Bear from a very abusive environment where he was being beaten with a chain and being starved...he barely weighed 45 pounds when Connie met him for the first time. (His racing weight shows to be 77 pounds.) She nursed him back to health, and you would never know what he has been through except for the scars from the chain.
Connie sent along a "personality profile" for Bear - cat tolerant and very good with other dogs, large and small; walks well on a leash, is house trained (tells you with a whine or bark when he needs to go out), loves to go for car rides, loves dog toys, enjoys baths, and is just an all around very, very loving, affectionate and good boy!
Bear's racing record indicates he was in Tampa, FL from August 6,2003 to September 30, 2003. His whereabouts since then are unknown. Bear is cat and small animal tolerant.