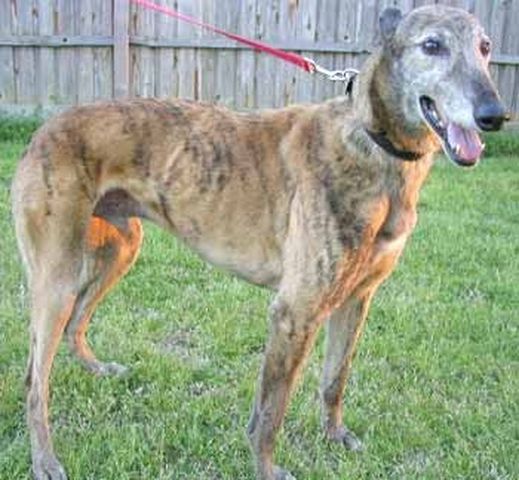 Bart, aka Bartelo, was a 9½-year-old brindle boy. His sire was HB's Commander and his dam was Jolly Genie. His short 10-race career at Southland spanned April 26, 1995 to June 12, 1995.
Bart lost his battle with heartworm disease suddenly on Tuesday, April 22. It was quick and we hope without pain. He had found his "forever home" these past weeks with his foster family, Ty and Jeff Lawrence...he knew that and Ty and Jeff knew also. Since his arrival at GALT on March 16, 2003, he was obviously cared for and loved more than he had been probably in his whole life. Bart had become quite an addition to the Lawrence family, and gave so much to each and everyone - especially Ty's mother, who suffers from Alzheimers, and their grandchildren.
---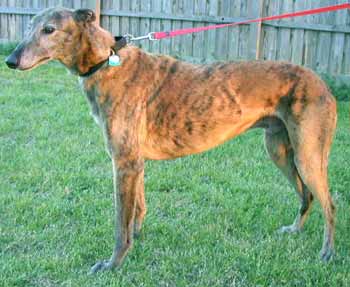 "He was a sweetheart, cuddling the rescued kitten between his large paws as they both sneaked a nap on the illegal couch; patiently allowing two-year-old Joseph to count his greyhound teeth AGAIN! He came into our world of chaos, adjusting quickly in spite of his numerous problems to four young rugrats, three other greys - Raven, Ellie and Getty - three 'little hounds', too many cats to count and an obnoxious parrot who delights in screaming 'BAD DOG, SHUT UP!!' (No, he didn't learn the phrase from us!). The only fly in his ointment was Getty, for whom he took an instantanous dislike, one which was happily reciprocated by Getty. Ironically, after such a rough start, I found them napping together last week on the large dog comforter. I looked for my camera and then as stupid humans frequently do, thought, 'no, got plenty of time to snap pictures'.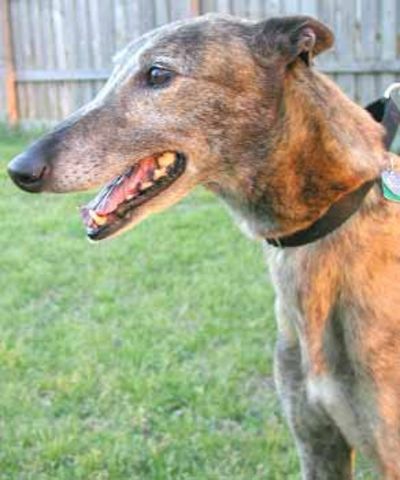 "He came into our home with unusual food anxiety, countersurfed to snag the bowl of dog treats or a plate of sandwiches which he would carefully carry (bowl, plate and all) to his bed - not to eat - just to have. Over the past couple of weeks, as mealtimes rolled around on a regular basis, that behavior gradually extinguished. He sneaked into mom's room every chance he got, climbing on her bed each morning to wake her up. I would frequently find her watching TV while she absently scratched behind his ear - two displaced seniors comforting each other.
"Despite his NGA tattoos, Jeff was convinced he wasn't all greyhound - his personality was so different from the ones we have encountered - much more feline than canine! He was a rascal, mischievious and sly, with a stubborn streak way out of proportion for a grey. There were days when we despaired of teaching him enough manners to wow a prospective family. Deep in our heart of hearts, we knew there would be no family to wow. Few want to bother with an old, sick dog. And deep in his heart of hearts, he had found his family. So we were counting off the days intil May 12, circled in red on the calendar, when we would make our last trip to Dr. Ellis, sign the final paperwork and hand the check to GALT. Then we would be off to Petsmart, to have the new name engraved on the shiny gold tag - Wylie - for the Coyote Who Never Gave Up.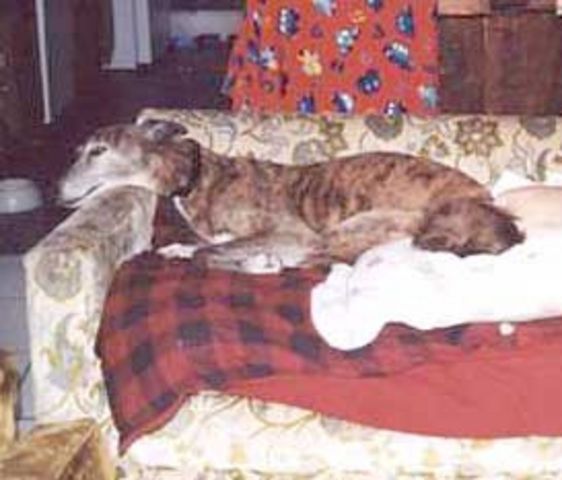 "Bart was probably never anyone's beloved pet, but for a few short weeks (long enough I hope to meet the requirements for the Rainbow Bridge), he was ours. He deserved longer. The day after Bart left us, I carefully explained the Rainbow Bridge to two six-year-old grandaughters and one five-year-old grandson. I explained how beautiful it was and how, when the angels told Bart's dog parents and brothers and sisters that he was on his way, they waited eagerly at the Bridge for him. Still Amanda was not consoled and after a three-hour crying jag that left both of us exhausted, I told her that soon the phone would ring and it would be Susie, or Nancy or Suzanne and they would say, 'We have another greyhound who needs you,' and when we picked up that greyhound we would see just a tiny bit of Bart in him and that way we would know we had the right one. I think it comforted both of us."
--Ty Lawrence, Bart's foster mom