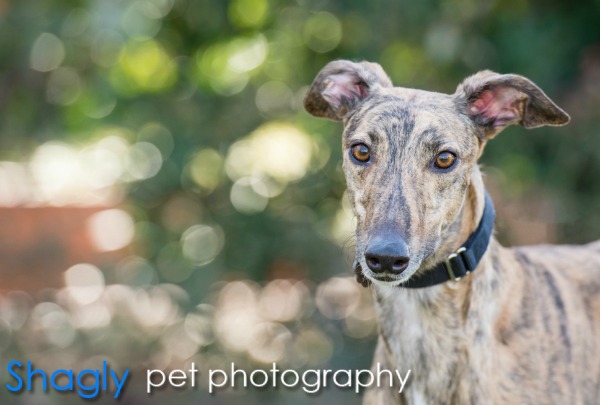 Ballerina, aka Yahoo Ballerina, is a 3-year-old brindle female born December 8, 2010. Her sire is Switzler Jammin and her dam is Flying Exorcist. Ballerina has 60 races on record from June 16, 2012 to September 2, 2013. She moved around between tracks quite a bit, logging races at Palm Beach, Dubuque, Mardi Gras Racetrack, and Gulf Greyhound Park. She recently suffered a plantar ligament tear, and is scheduled for evaluation at the Central Texas Veterinary Specialty Hospital.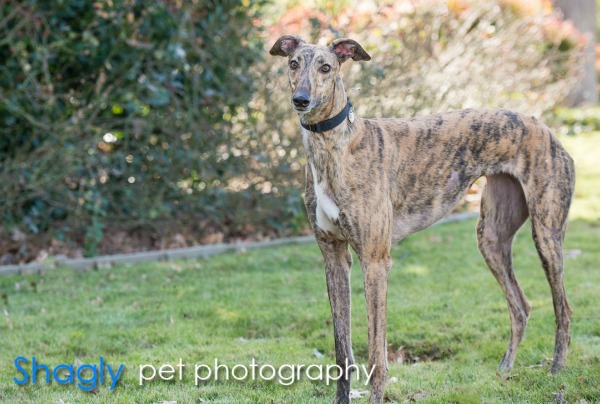 Ballerina is not cat tolerant.
Ballerina had surgery on October 16, 2013, for a plantar ligament rupture on her right rear leg. Dr. Stephen Kerpsack of CTVSH implanted a 6 hole plate and 5 screws. Her recovery was slow and on October 31st she returned for a 6-day hospital stay due to an ulceration on her leg. She required daily bandage changes along with special soaks to the area during her stay. She then had bandage changes every 7 days. On November 25th Ballerina was treated for a large circular open wound which required removal of the cast. She was leash walked for 3 weeks to insure proper healing of the leg. Ballerina has now completed all her medical treatments and is ready to find her forever home! As with all greyhounds with implanted plates and screws, removal may be required at a future date.
Ballerina is a real lover girl. She has not had accident in house since she's been here. She likes to "decorate" - dragging around dog beds and bath mats, but she doesn't chew on them. Ballerina likes to play with toys. She seems to be ok around small dogs.

She's quite the squirrel hunter in the yard. She is laid back but gets very excited when I wake up in the morning and when I come home. She is definitely a people pup who loves to be close to you. I think she will make someone a greyt companion!

Ballerina's Foster Mom