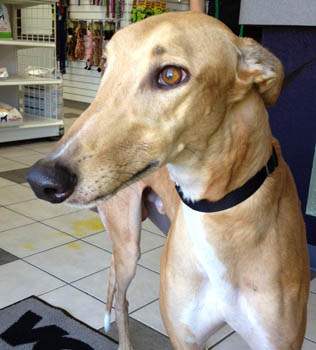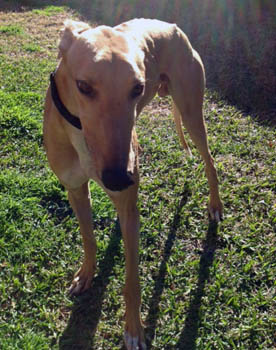 Ascot, aka Keeper ASV, is a 3-year-old red male born September 22, 2009. His sire is Black Streaker and his dam is Cira's Tiger. Ascot has 103 races to his credit on Greyhound-data.com, all at Gulf Greyhound Park. His career started on June 22, 2011, and ended on February 2, 2013. GALT was contacted when Ascot suddenly, and without apparent injury, lost control over his back legs. He was able to walk the next day, but was unsteady.
After spinal x-rays and evaluation, Dr. Ellis of VCA Preston Park Animal Hospital did not find any indication of injury. However, he referred Ascot to Dr. Julie Ducote of the Center for Veterinary Specialty Care for a complete neurological exam. On May 22, 2013, results revealed he is completely normal neurologically. Dr. Ducote suspects Ascot possibly had a FCE - Fibrocartliagenous embolism - and has completely recovered at this time. She says it is very unlikely that he would have any future incidents of this kind.
Ascot has been moving around well in his foster home, and has been cleared medically to start the search for his forever home!
Ascot is not cat tolerant.
Ascot is a joy to foster. He absolutely loves people. The first thing he will do when you meet him is lean into you to be petted; he even did that with Dr. Ellis when we took him to Preston Park Animal Hospital. He likes to play with our other greyhound and any squeaky toys he can find. Ascot has not shown any space or food aggression issues. He learned very quickly that his food bowl is in the laundry room and his sister's is in the kitchen. He now walks easily on a leash and enjoys his walks. We don't have a back yard so we take him to a large treed lot, which he knows is his potty yard. He may not be cat tolerant, but after one encounter with our Cockatoo (Max), Ascot decided it was best to just ignore him. He was a Velcro guy the first week, however, now that he knows we are not leaving him, he just checks to see where we are, and then goes back to his dog bed in the family room.

Ascot's crate is in our bedroom; he didn't like to be crated at first but has adjusted to it and sleeps through the night. We also crate him when we go out; he may whimper a little but then settles down to nap until we get home. Since there are no TVs at the racetrack; the first action movie we watched caused him to bark and roam the house for the source of the racket. Thunderstorms also triggered the same response, however, he is getting better. Ascot is a dog that will bring love and smiles to any family looking for a wonderful companion. He is a well-built greyhound that you would never suspect had 103 races. He has beautiful brown eyes that will melt your heart, great markings and perfect teeth. I know we would keep him if we had a yard!

Ascot's Foster Parents