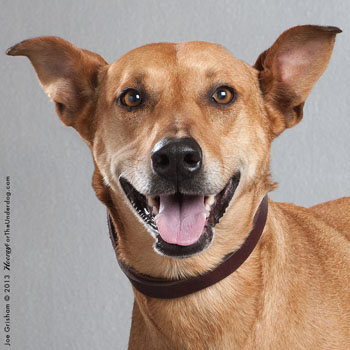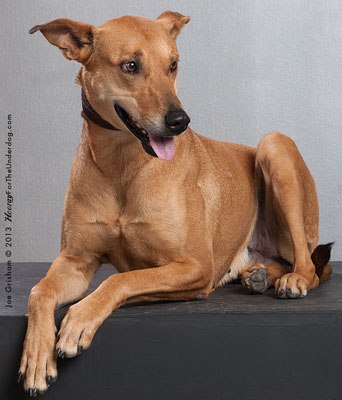 Angie is an untattooed approximately 5-year-old fawn female found as a stray near Blanco, TX. From the Blanco Animal Rescue Kinship: "She was seen laying on a caliche road for over a week by some ranchers. They put out water and food for her but she would not budge. They would drive around her to get to their ranch. Finally, someone called me and I went to pick her up. I sat near her to judge her temperament and spoke gently. Angie did not seem scared at all. However, she would not get up at my verbal urging. Finally, I went to her and dropped the leash around her neck and told her that whoever dropped her off was not coming back and waited a bit and she rose gently and followed me to the truck and jumped right in. She is so sweet and just such a great girl. A rescuer from Hondo speculated that Angie might have been an illegal racer or possibly bred to hunt coyotes, both of which are common in her area. She had no tags, only a cloth green collar. She has calluses on her front elbows and a v shaped scar underneath her chin."
Angie's DNA test shows that she is an honorary greyhound only - she is a German Shepherd and Doberman mix. The original pictures sent to us looked much more greyhound like than she does in person, but she is a loved GALT member in any case.
Angie was heartworm positive when she arrived, and has finally finished her treatment and is heartworm negative!
Angie is cat tolerant and has met small dogs calmly.
Surround yourself with a certain type of anything long enough -- cereal, workout shoes, breed of dog perhaps -- and the realization there are other varieties tends to slip further and further away. it's not that you have any objection to any other than your favorites; you just forget a bit that any others exist.

Which brings us to Angie. Call this angel (for surely that is what Angie is short for) a pseudo greyhound, call her an honorary one. But call GALT lucky to have her. She was a stray, spotted by a good-hearted person who could have sworn she was a greyhound and thus, contacted GALT. Turns out Angie's veins course nary a drop of blood identifying her as a greyhound. But she was GALT's from the start, and GALT's she'll remain.

Angie is loyal and loving, strong on a leash but gentle with a certain older foster we're lucky enough to be vacation sitting for a couple of weeks. When Babe wants to go out, Angie leads the way and Babe follows, frolicking like a puppy.

Angie sleeps almost as much as her greyhound housemates, but she has energy to burn. She has several favorite activities -- dashing outside to her favorite tree and barking at various squirrels who might be inhabiting the branches, as well as going for a walk. She does pull on the leash, quite forcefully; she is one strong girl. But a quick tug on it and a "good girl" every time she does calms her a bit. She is eager to please and eager to return any love proffered her.

She needs to be in a home with a yard, preferably one with at least one other dog. She is sociable and sweet, and enjoys being part of the gang. She is crate trained but we don't crate her; she tends to stay in one room. When we added a new cat (No. 2) to the household, Angie took more interest in Stella than she did in Asa, who was here when Angie arrived. But a stern "No no kitty" turns her in the other direction.

Angie reminds us that love comes in all shapes, all sizes, all energy levels, all breeds. She'll be a loving and longtime addition to one certain household that awaits her -- and just may not know it yet.

Angie's Foster Mom