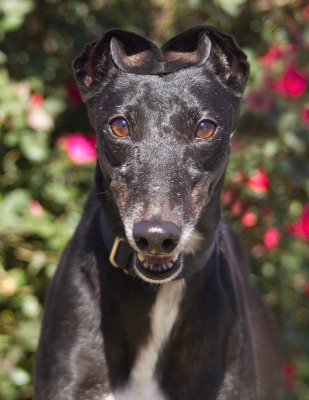 Amber, aka Chantilly Lane, is a 5-year-old black female born September 14, 2008. She is Irish born and bred - her sire is Westmead Hawk and her dam is Annas Wish. Amber has just 8 races to her credit on Greyhound-data.com, all in Florida. She started at Orange Park on June 25, 2010 and ended at Daytona Beach on August 7, 2010.
Amber arrived with a neck wound, a high burden of intestinal parasites, and a low packed cell volume in her bloodwork. Amber has been in treatment with Dr. Jeff Ellis of VCA Preston Park Animal Hospital with consultations with Dr. Kelly Nitsche of the Animal Diagnostic Clinic. After several weeks of being on an iron supplement, being treated for parasites, and in general healing up, she is finally feeling good enough to finish her medical procedures and start her search for a forever home!
Amber should not live with cats.
Amber is a petite spitfire like that other Irish beauty, Scarlett O'Hara. She can't be trusted around kitties, or possums and squirrels for that matter. She loves her stuffies and keeps them near her beds so that they will always be handy for squeaking and shaking. She frequently and generously places one on my pillow too!

Amber roaches while relaxing and gets along famously with her foster brother. They enjoy running in the yard and doing zoomies together. She adores going for a ride in the car but can't quite get the hang of jumping in. She might just like being picked up. She exhibits no food or any other aggression. She is always ready for a treat or a rawhide.

Amber has the run of the house when I am away, since she learned not to counter surf. When I come home she greets me with a happy dance and her restrained little bark that sounds like a Chihuahua. Once I am home, she is my sparkly-eyed companion.

Amber's Foster Mom