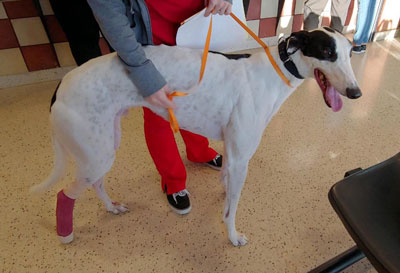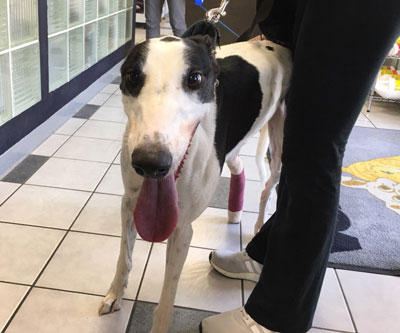 Alvin, aka Noshameallgame, is a handsome 2 1/2 year old white and black ticked male born December 20, 2017. His dam is Prettnsweet and his sire is the Irish born Lenson Sanchez. Alvin has 33 races to his credit on Greyhound-data starting at Derby Lane and finishing on February 19, 2020, at Gulf Greyhound Park when he suffered a career ending injury. Surgery was performed on February 25 by Dr. Bob Radasch of Dallas Veterinary Surgical Center, placing an external fixator to repair the central tarsal bone fracture.
Now almost 2 1/2 months later, Alvin is ready to find his forever home!
It is not known at this time if Alvin is small animal or cat tolerant.
Watch more of Alvin