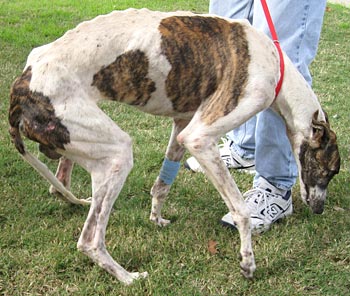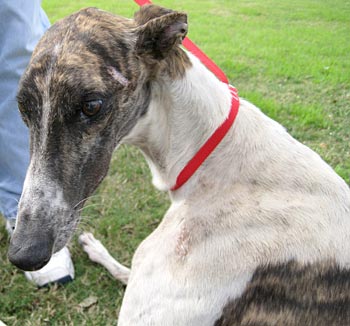 Albert, aka AL Whiteblizzard, is a white-and-brindle, 2-year-old male born July 19, 2007. His sire is Lonesome Cry and his dam is Singitforjackiep. Albert was ejected (either accidentally or intentionally) from a moving pickup truck on Wednesday afternoon, November 18, on Sanger Avenue in Waco, TX. A good samaritan, who observed this tragic scene, stopped to help after Albert was hit by another vehicle. The Texas Greyhound Association notified GALT so plans could be made to pick him up from the Waco Humane Society. He was released into GALT's custody on Saturday, Nov. 21, and is now being evaluated by Dr. Christy Soileau of VCA Preston Park Animal Hospital. Miraculously there are no broken bones, but Albert has neurological damage. His back legs are very wobbly and his feet knuckle under sometimes when he walks. He is on medication that hopefully will help, but at this point time will tell. In addition, he has many open wounds and weighs only 55 pounds.
An investigation is currently being conducted to identify the driver of the pickup truck. The Texas Greyhound Association, in conjunction with the National Greyhound Association, is assisting in this matter.
UPDATE 11/23/09
Albert, with loving people around him, was sent on his journey to the Rainbow Bridge, where he is now running pain free. He could not overcome the neurological injuries which were now manifesting into seizures.
UPDATE 12/7/09
$1500 Reward!
Supporters of GALT, Larry Wilson, the Texas Greyhound Association and John Reinert have stepped forward to offer $500 each for information leading to the arrest and conviction of the person responsible for Albert being thrown from a pickup truck on Wednesday, November 18, 2009, at the 4800 block of Sanger Ave, Waco, TX.
UPDATE 12/17/09
Unfortunately, the Waco Tribune-Herald ad offering a reward for information pertaining to Albert has yielded no responses. Although legal avenues are being sought through the National Greyhound Association and the Texas Greyhound Association, GALT is also working with local authorities.