Neglected Muskogee Greyhounds Two Came to GALT
GALT took in two of the greyhounds from the horribly neglected dogs (see news stories below) found April 12, 2004, in Muskogee, Oklahoma. Teddy Palmer of Halfway Home Greyhounds was the author of the rescue of these dogs. Without Teddy's efforts and Halfway Home Greyhounds, along with those accepting the greyhounds - GPA Missouri, GPA Tulsa, GPA OKC, and GALT – all of these dogs would have faced an uncertain future.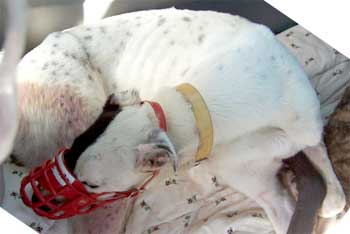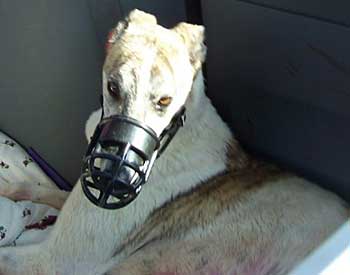 Apache (formerly Domino) and Cherokee (formerly Patrone), arrived in Dallas on Saturday, April 17, and went directly to Preston Park Animal Hospital. They had received all their vaccinations, worming, heartworm testing (negative, thank doG!) etc. in Tulsa under the care of Halfway Homes' caring vet. Both of them showed signs of Sarcoptic Mange, so all the precautions and medications were implemented. Bloodwork has been submitted for all their tick tests, and CBCs with Chemistry Serum Panels. Both of these boys are in the care of very loving and caring foster homes where they are getting the best of care. Both boys are being treated for Rocky Mountain Spotted Fever.
---
Cops find dog neglect: Four dogs dead; others malnourished
By Elizabeth Ridenour, Phoenix Staff Writer
Originally published Tuesday, April 13, 2004 in the Muskogee Daily Phoenix
Muskogee County sheriff's deputies seized 15 greyhounds Monday and are looking for a man suspected of neglecting the animals.
Four of 19 greyhounds found at a residence west of Muskogee were dead, authorities said.
"We expected to find two dogs, maybe four," said Tim Brown, Muskogee County deputy. "As I got closer and closer to the pens, more heads started popping up."
Deputies were called to the residence of Delroy Reed, 47, on South 70th Street West. They are looking for Reed to find out why four dogs were dead, and the remainder were in various stages of health.
"A couple were limping real bad," Brown said. "One looked really awful."
Four of the dogs had skin diseases, but most just suffered from malnutrition and neglect, Brown said.
The four that were dead had not been buried, but were underneath tarps or in a large can.
"We found what we thought were puppies in a black plastic tub," Brown said.
Two of the dogs who were still alive were on the patio behind the house. The remainder of the dogs were about 50 yards behind the house in pens in a field.
"There was water, but no food, and there was inadequate shelter," Brown said.
Dr. Gloyd Miller, a Muskogee veterinarian, was going to check on the animals' condition, he said.
The dogs were taken to the Muskogee Animal Shelter, but because the shelter is a city facility and does not serve the county, the sheriff's office will have to find other accommodations today for the animals.
Is a greyhound for you?
If you have a large fenced yard. Remember, greyhounds love to run -- were born to run. They must have room to expend all that energy so they can be what they like best -- a couch potato -- and a happy well adjusted companion.
If you want a clean, no-smell house dog. Greyhounds are not equipped to be outside dogs, and are not a breed to be relegated to the back yard and neglected. They are very social and desire companionship. To do otherwise is to promote boredom, bad habits, and spooky atypical behavior.
If your children are well behaved. Greyhounds generally love children, but will not tolerate abuse. If they cannot get away, they may snap a warning.
If you can afford to keep a big dog. What you don't pay in grooming bills you will in dog food, which must be of very high quality providing adequate protein, fat, vitamin, mineral and caloric intake. Grocery store brands just won't do.
Source: Greyhound Club of America
Living with greyhounds
Greyhounds are clean, with no doggy odor. The coat is short, fine and has a single layer only (no undercoat) so very little grooming is needed -- a quick wipe with a cloth, a light brushing and only an occasional bath. They are affectionate, but not demanding or slobbery -- they rarely lick, but instead enjoy poking their nose at you. They are at their best lying on the couch with you (or on you) and love body contact.
They are not "barky." If they bark, it's for a reason. They find no sense in incessant barking for no reason. Greyhounds are intelligent, although not necessarily always in the way you would like. Many learn to open gates, garbage containers, etc. They are independent thinkers. Many have done well in obedience, but it takes an innovative trainer as they learn fast, but become quickly bored.
Their temperaments range from sensitive to very outgoing, with most falling in the middle range -- sensible, sweet, happy and affectionate. They are rarely a one-man dog, but instead like everyone. It's not to say they don't love their owner best, but they generally just like people.
Oklahoma statute
Any person who shall willfully or maliciously overdrive, overload, torture, destroy or kill, or cruelly beat or injure, maim or mutilate, any animal in subjugation or captivity, whether wild or tame, and whether belonging to himself or to another, or deprive any such animal of necessary food, drink or shelter; or who shall cause, procure or permit any such animal to be so overdriven, overloaded, tortured, destroyed or killed, or cruelly beaten or injured, maimed or mutilated, or deprived of necessary food, drink or shelter; or who shall willfully set on foot, instigate, engage in, or in any way further any act of cruelty to any animal, or any act tending to produce such cruelty, shall be guilty of a felony and shall be punished by imprisonment in the State Penitentiary not exceeding five (5) years, or by imprisonment in the county jail not exceeding one (1) year, or by a fine not exceeding Five Thousand Dollars ($5,000.00). Any officer finding an animal so maltreated or abused shall cause the same to be taken care of, and the charges therefore shall be a lien upon such animal, to be collected thereon as upon a pledge or a lien.
Copyright ©2004 Muskogee Daily Phoenix. All rights reserved.
---
Man turns himself in, charged with animal cruelty
By Elizabeth Ridenour, Phoenix Staff Writer
Originally published Friday, April 16, 2004 in the Muskogee Daily Phoenix
A Muskogee man turned himself into authorities Thursday and was charged with 15 counts of cruelty to animals after deputies found 15 greyhounds that allegedly were malnourished and neglected. Delroy Reed, 47, was released Thursday afternoon from the Muskogee County/City Detention Facility on $5,000 bond. Reed also has signed a waiver releasing the dogs.
"He came in yesterday and relinquished his rights to them," said David Pierce, first assistant district attorney. Because Reed relinquished his rights to the animals, the Muskogee County District Attorney's Office agreed not to charge Reed for the charges incurred for the feed, care and upkeep of the dogs as a result of their custody, court documents state.
The dogs were seized Monday by Muskogee County sheriff's deputies at Reed's residence on South 70th Street West and were taken to the Muskogee City Animal Shelter. "The worst of the dogs have red mange and worms," said Deputy Tim Brown. Some are malnourished, and some have damaged paws. "All of them are salvageable," Brown said. And all of the dogs now have new homes.
The Sheriff's Office was inundated with calls from people who wanted to adopt dogs or donate money for their upkeep and veterinary bills. "We got rid of all the dogs yesterday," Brown said. "I want to thank everyone for their response, especially the city animal shelter, Tammie Lee and her crew. They were absolutely wonderful." Four additional dogs also were found on the property but had died. They had not been buried but were found underneath tarps or in a large can. Deceased puppies were found in a black plastic tub.
Reed will be back in Muskogee County District Court at 10 a.m. April 29 for a sounding docket. At that time, a date will be set for a preliminary hearing.