Cooking For the Hounds
September 29, 2012
The Mercury
Dallas, TX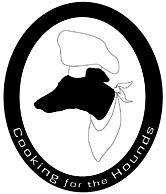 GALT's 7th annual "Cooking for the Hounds" event was a smashing success! Many thanks to renowned Mercury chef, Chris Ward, who opened up his kitchen once again to demonstrate the following fabulous dishes and share the tasty treats with his GALT fans and friends:
A sumptuous menu was demonstrated by Chef Ward and tasted by the lucky attendees!
Roasted garlic flan with jumbo shirmp, crabmeat and vermouth sauce
Braised short ribs with celery root puree
Pearl couscous carbonara
Grand Marnier Souffle
Chocolate Souffle
VIP patrons had the best seats in the house and received special chef's aprons autographed by Chef Ward, author of "Restaurant Life: The Culinary Chronicles of Chef Chris Ward." For the seventh consecutive year, Chef Ward generously donated the food for this popular GALT event, thus allowing the vast majority of the proceeds to benefit the hounds. Significant funds were raised by the silent auction, which included numerous works of art, jewelry, spa packages, doggie gifts and much more. A special tip of the hat goes to Marjy and James LaGesse of LaGesse Auctions, who organized and conducted the silent auction and an impromptu live auction. Additional funds were raised by raffles for Cowboys tickets and a Mercury gift card.
Three of GALT's available greys - vivacious Spinner, "Mr. Cool" Nate and "Everyone's Sweetheart" Angel - were on hand to greet the attendees and remind us all why we were there. No one went away hungry - and people are still talking about the sumptuous banquet prepared and served by Chef Ward and his excellent staff. It is a daily struggle to meet the financial needs associated with GALT's mission. The funds raised by this event will go toward ensuring that GALT lives up to its motto of "No Grey Turned Away."