Cooking For the Hounds
September 10, 2011
The Mercury
Dallas, TX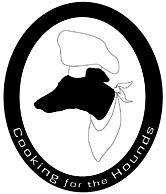 Saturday, September 10, from 2 to 5pm, 65 dog and cooking aficionados attended "Cooking for the Hounds" conducted by Chef Chris Ward of The Mercury. This was Chef Ward's 6th consecutive year to donate his talents and greyt food to help GALT's Greyhounds!
A sumptuous menu was demonstrated by Chef Ward and tasted by the lucky attendees!
Filet of Beef on Tuscan Bread with Roquefort Cream
Dauphiniose Potatoes
Coq au Vin
Shrimp Tempura with Sweet Chili Sauce
Chocolate Lava Cake
For those who purchased VIP tickets, they sported cook's jackets donated by Admiral Linen Service), and then autographed by Chef Ward.
A silent auction tempted the attendees of everything from Lladro figurines to custom made jewelry! Special thanks to Marjy LaGesse for organizing and conducting the auction. Two cook's jackets were hand painted by artist Danielle Bennignus, and they were perfect items for the live auction!
GALT's sincere thanks to all who attended and contributed to make this event a huge success for GALT's Greyhounds!