Cooking For the Hounds
June 25, 2006
Mercury Grill
Dallas, TX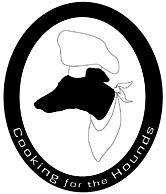 Sunday, June 25, from 2 to 5 pm, 75 dog and cooking aficionados attended "Cooking for the Hounds" sponsored by Chef Chris Ward of The Mercury Grill. GALT volunteer Rob Banes, who was instrumental in arranging this fabulous event, assisted Chef Ward in the kitchen.
It could not have been a more fun event! Attendees enjoyed specialty drinks - Mojitos, Salty Dogs and, of course, The Greyhound, and a taste of Chef Ward's choice dishes: Fig & Proscuitto Pizza with Roquefort Cheese, Gazpacho with Grilled Scallops, Roasted Garlic Flan with Jumbo Shrimp, Crabmeat & Vermouth Sauce, and Steak Au Poivre, followed by an array of desserts to make your mouth water!
All attendees received a "GALT doggie bag" filled with an apron imprinted with the fun logo for the event, a bag of doggie treats (15-minute liver treats and peanut-butter dog biscuits) and a compilation of Chef Ward's recipes of the day. A raffle was held for two VIP Wine Tasting Classes for 35 guests each, sponsored by Premier Wines of Plano. Chef Ward left the following day for The White House where he was the guest chef, cooking for the Japanese Prime Minister, Junichiro Koizumi. From there Chef Ward traveled to Paris where he is now the guest chef at the famous 60-year-old French restaurant, Les Caves Taillevent, until July 20, 2006.
GREYHOUNDS – GREYT FOOD AND DRINK – WHAT ELSE CAN YOU ASK FOR?