GALT'S GREYTSTORE HOLIDAY BOUTIQUE 2016 – ONE FOR THE RECORD BOOKS!
GALT's 2016 GreytStore Holiday Boutique was the most successful holiday event in GALT's history! They say in retail it's all about location, location, location – and we could not have had a better one. Many thanks to Kris Schuster for arranging the prime donated space in fabulous Preston Center – a perfect location to showcase our stunning Hermes' scarves, Arthur Court serveware, jewelry, pet goodies and numerous other temptations for holiday shoppers! Thanks also to photographers John Hudson and Mark Nardecchia, and our two wonderful Santas, for helping make some beautiful photo memories for so many GALT friends and fans.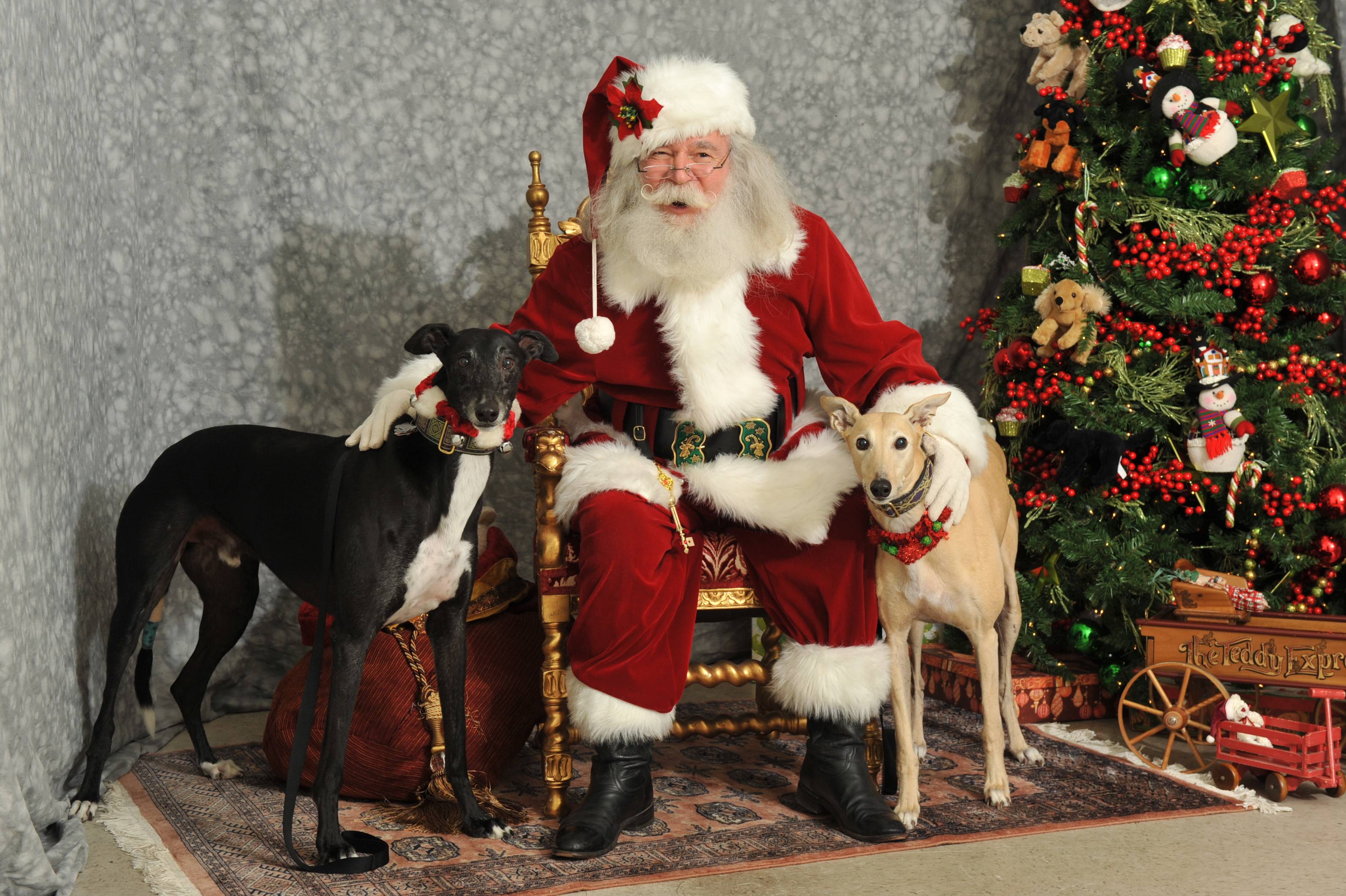 For the past three weekends in November, hundreds of people came together to visit with their GALT friends (human AND canine), reunite with former foster greys and shop for holiday gifts for friends and family. Some of us even managed to find a few things for ourselves that we couldn't live without – like GALT's 2017 calendar and some new apparel, jewelry and other items. When we weren't shopping or catching up with friends, we were sampling the many delicious snacks and refreshments catered by Anne-Marie Cariotis of Greek Café and Bakery
Congrats to all of the big winners in the raffle drawings! We had some wonderful prizes this year and really appreciate all of the support from the prize donors and those who purchased raffle tickets.
And what can we say about our fabulous volunteers? It takes a lot of people to set up the store, assist with sales and tear down everything after the event. GALT is blessed to have such a huge army of dedicated volunteers who are willing to pitch in for fundraising events like this every year. We literally could not pull off these events without your help. While there are too many to name here, we do want to single out two special volunteers who were instrumental in the record success of this year's Holiday Boutique:
Dixie Laney, our GreytStore Manager, has also managed the GALT holiday store for the past three years. She spends MONTHS getting merchandise ready – purchasing, pricing, tagging, etc. – and she uses her vast retail experience to bring our winning store concept to life. Dixie is quick to give thanks to her husband, Mark, who works extensively with her behind the scenes – and she is also very appreciative of the help she receives from numerous GALT volunteers.


John McQuade, GALT Co-Founder, has also worked tirelessly for the past couple of years, researching and building up GALT's inventory of beautiful vintage scarves by Hermes' and other designers. John primarily sells these high-margin items online to collectors and other dealers, but this year's Holiday Boutique was the perfect venue for our target Hermes' customers. The huge increase in scarf sales was a significant contributor to the bottom line of this year's Holiday Boutique.
Many thanks to Dixie, John and all of our volunteers and customers for providing such a wonderful year-end boost to our 2016 fundraising efforts to benefit the hounds!
Check out the following link for photos from this fun event: Photos