12th Annual
Fundraiser
Dinner and Gala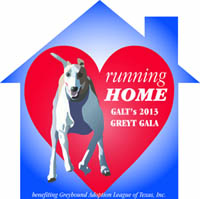 Saturday, February 23, 2013
6:00 pm - 10:00 pm

Hilton Dallas
Southlake Town Square
1400 Plaza Place
Southlake, TX 76092

12th Annual Greyt Gala Dinner & Auction
"Running Home"
Click HERE for fabulous photos by John Hudson!
For over ten years, the Greyhound Adoption League of Texas (GALT) has been an organization of choice for retired racing Greyhounds ready to transition to their forever homes. GALT also receives and unconditionally accepts many injured, abused and neglected Greyhounds that are found as strays and in animal shelters.
For most of these Greyhounds, the journey to a loving home comes relatively quickly. For many others, 'running home' is a much longer and harder journey requiring vast amounts of medical care to treat broken legs, heartworm infestation, tick-borne blood diseases, the ravages of near starvation and the time required to heal. GALT's operating budget soared to nearly $400,000 in 2011 and has maintained that level in 2012 due to continued high medical and rehabilitation costs for these sick and injured Greyhounds.
Your attendance at the Greyt Gala this year helped provide the funds needed for GALT to continue to provide care and sustenance for the injured, sick, abused and neglected Greyhounds. Your faith in GALT, your never-ending hope that every Greyhound has a loving home, and your charity at this event continues to make that possible.
We returned for the second year to the beautiful Southlake Hilton in Southlake Town Square
Tickets were $125 each, $250 per couple or $1,000 for a table of ten
The event was from 6:00pm to 10:00pm with cocktail hour and appetizers circulated from 6:00pm to 7:00pm
Dinner was a seated three course dinner including a duet entree of beef and chicken (vegetarian entree available)
An event beer or wine glass was available for purchase for $10 and included free refills of beer and wine donated for the event. Service switched to a cash bar when the donated beer and wine depleted and mixed drinks were also available all evening at the cash bar.
For guests who wished to stay at the Hilton, a group rate of $145 was available.
John Rhadigan returned as our emcee for the event and interviewed our special guests during dinner.
Burton Gilliam returned again this year. He is known for his role in Blazing Saddles and our favorite picante sauce commercial here in Texas.
Mark Followill, the television voice of the Dallas Mavericks, attended the GALA. Mark wasnot only interviewed by emcee John Rhadigan, but also assisted John in the program. As you may know, Mark is also the greyhound dad to Phoebe!
Several retired major league baseball players were scheduled to appear including Jack Lazorko, Don Stanhouse, Don Johnston, Mike Phillips, John Knox, Mike Bascik and more!
Live and silent auction items will be on display and ready for bidding - this is GALT's largest fundraiser of the year so we pull out all the stops!
Many Thanks to Our Sponsors
Diamond Sponsors
---
Gold Sponsors
---
Silver Sponsors
---
Bronze Sponsors
---
2013 Greyt Gala Sponsor Levels
Diamond - $5,000
Named Sponsor in all Print and Media ads
Full page ad in Event Program - Front or Back cover available on first come basis
Logo and website link listed on GALT's website home page for 12 months
Reserved table with admission for eight
Signage displayed at event
Acknowledgement as Named Sponsor before the auction
Professional group photo with the greyhound guests of honor
Information distributed to guests in Giveaway Bag
Four complimentary corks from GALT's famous Wine Pull drawing
Celebrity in attendance at your table
Platinum - $3,500
Named Sponsor in all Print and Media ads
Half page ad in Event Program
Logo and website link listed on GALT's website sponsor page for 8 months
Reserved table with admission for six
Professional group photo with the greyhound guests of honor
Information distributed to guests in Giveaway Bag
Four complimentary corks from GALT's famous Wine Pull drawing
Celebrity in attendance at your table
Gold - $2,500
Quarter page ad in Event Program
Logo and website link listed on GALT's website sponsor page for 6 months
Reserved table with admission for four
Professional group photo with the greyhound guests of honor
Information distributed to guests in Giveaway Bag
Silver - $1,000
Business card sized ad in Event Program
Logo and website link listed on GALT's website sponsor page for 2 months
Reserved table with admission for two
Bronze - $500
Business card sized ad in Event Program
Logo and website link listed on GALT's website sponsor page for 1 month
Reserved table with admission for one
Honorarium - $100
Name or Business Name printed in Event Program as a Friend of the Greyhounds