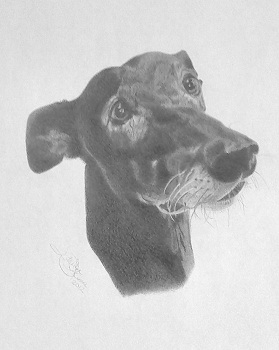 From Artist Therese Skinner of Greyhound Affair, and proud member of GALT:
Purchase an 8.5x11 graphite portrait pet sketch to be scheduled in 2013, mention you are a GALT Member & get $5 off the regular price of $50! EMAIL GreyhoundAffair@yahoo.com or message Greyhound Affair on Facebook to order - use code "GALTSPESHUL" in the subject! Pet photo, your name, email address & a $25 deposit via paypal will be required to reserve your sketch. Did we mention that "$5 off" will be donated to GALT to help all the hounds in GALT's care??? OH YEAH!

Not valid with any other offer. Shipping included. Offer ends 12/31/2013. GALT membership will be verified for discount.
Many thanks to Therese for this generous offer for GALT members, and her helping hand for the GALT greyhounds!