Sunday, September 22, GALT celebrated Greyhound Planet Day by spreading the word of greyhounds as companion pets at Addison's 15th Annual Oktoberfest!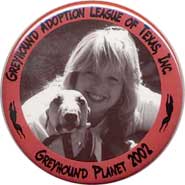 GALT was located on the front porch and lawn of the historical Stone Cottage, and it was a perfectly lovely location for the greys with many shade trees. Hundreds of folks strolled by, stopping to visit and give a pet or two to the GALT greys. GALT's members and volunteers educated the attending public about greyhounds as companion pets.
Canine Commissary generously sponsored Billy Buttons, so everyone was able to have the commemoration of this first annual Greyhound Planet Day documented by having a picture made with their greyhounds.
Greyhound Adoption League of Texas was the only breed-specific adoption group featured at the festival. GALT's sincere thanks to the City of Addision for once again hosting the greyhounds at this annual fun event.
Some of those helping to spread the word about our beloved greys were:
Yvonne & Tom Cone with Whimsey
Joyce & Stephen England with Gretchen & Gambler
Lisa Benglesdorf with Mandy & Cody
Melissa Cody and Suzanne & Gary Cody with Winston & Fancy
Nancy Colwell with Xander & Corkie
Suzanne Griggs with Cash & Sage
Ron & Cindy Nichols with Cobbler
Kathleen & Brian Moake with Ramsey
Martha & Steve Gregorich with Ally & Zeke
Dave & Marilyn Cole with Jammer, Katie & Hootie
Maritza Romero with Scrabble
Carol Sahlfeld with Lance
Kris Schuster
Robin Toula
Carol & Tom Pulley with Miss Cool & Zeke
Susie & John McQuade with Bob, KoKa Mo & Katie Bonnet
Joe & Mary Hoiles with Max
Joann & Scott Young with Moon Shine
Michelle Scarlett