Hitch, Hockey & Hounds
Benefit Dinner
August 31, 2001
Lawry's The Prime Rib
Addison, TX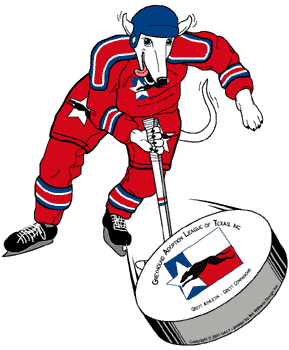 Head Coach Ken Hitchcock of the Dallas STARS kicked off Greyhound Adoption League of Texas' Capital Campaign for their "home for the hounds" at a benefit dinner/silent/live auction on August 31 at Lawry's The Prime Rib located in Addison. Bob Sturm of SportsRadio 1310, The Ticket was the Master of Ceremonies. This event was sponsored in part by Charlie McKinney of Goldman Sachs, Cynthia and Stan Blazejewski and Carol and Neil Knox. The evening began at 6:30 with an hour of mix and mingling with the greyhounds, dinner was at 7:30, followed by Coach Hitchcock being interviewed by Bob Sturm and the audience. The live and silent auctions finished the evening with a bang! Over one hundred hockey and greyhound aficionados participated, giving generously for the hounds and raising $20,500.
GALT Chairman of the Board John McQuade stated to the attendees that the League is in the process of securing land for an adoption center and kennel facility to house the many Greyhounds in need of adoption in its operating area. The kennels will also be used for boarding of greys already adopted and other breeds as a means of providing income on an on-going basis. To accomplish this goal, GALT introduced this capital campaign to raise these needed funds, and their first step toward this worthy endeavor was "Hitch, Hockey and Hounds"! McQuade and Hitchcock met at a Dallas STARS Stanley Cup Champions celebration party in 1999, where John's passion for these companion pets convinced Hitchcock to lend his hand to this worthy cause. Coach Hitchcock and the Dallas STARS Community Relations Department have generously supported greyhound rescue and adoption in the north Texas area for the last several years as one of their metroplex charities of choice.
Hitch, Hockey and Hounds was an evening of good conversation, delicious food, and silent/live auctions, all for a GREYT cause - these wonderful greyhounds! See the bottom of the page for a slideshow of pictures.
GALT would like to thank the following people for their team efforts in making this FIRST annual event such as SUCCESS!
Maryann Galuski, GALT's Fundraising Director
Sandi Izzarelli, GALT's Special Events Director
Charlotte Brown, GALT's Graphics Designer
Suzanne Griggs
Donald Wristen of DFW Photography
Cathy Timberlake
Debi Joynt
Debi Davis
...and many others who volunteered their time and energy for the love of the greys
THANK YOU!
---
Supporters:
Andrew & Maryann Galuski
AXA Advisors
Bill & Crystal Lynton
Bill & Barrett Dippel
Brady Tinker
Brian & Erika Cooper
Cathy Timberlake
Chris & JoLynn Dunn
Coral Bucy
CSR America
Cynthia & Stan Blazejewski
Debbie Wilson
Debi Joynt
Denise & Danny Saleh
DFW Photography-Donald F. Wristen
Donald & Brenda Ferrell
Dr. Shelley & Bill Hempell
Fred & Josh Bucy
Goldman Sachs - Charlie & Tonya McKinney
JJ & Heidi Parrish
Joanna Howard
John & Susie McQuade
Karen & John Ahlquist
Kathy & Randy Richardson
Keith & Alyssa Martin
Kevin & Brianna Norton
Merrill Lynch - Gary Fry
Michael & Stephanie Wolverton
Mike Hood
Mr. & Mrs. James D. Izzarelli
Mr. & Mrs. Mike Townsend
Neil & Carol Knox
Noel & Teddy Padden
Pete & Sarah McGaugh
ProLogis Trust
Randy Harrill & Terri Walker
Rees Bowen
Ron & Sherry Wade
Rori Rhodes
Sandi Izzarelli & Brian Holdgate
Shelly Werth
Steve Ackley & Donald Jones
Steve & Becky Collins
Suzanne Griggs
TLC Realty - Tim Lancaster
---
Auction Items Generously Donated By
Bear Creek Construction, Ltd.
Black Horse Design
Brian Holdgate & Sandi Izzarelli
Café Patrique
Canine Commissary
Dallas Mavericks
Dallas STARS
Debi Joynt
Duds 4 Buds
Feizy Diamonds & Fine Jewelry
Ferguson Enterprises
Gabbert's Design Studio - Rori Rhodes
Goldman Sachs - Charlie McKinney
Good Eats
Hidden Springs Winery
Hockey Hall of Fame
Hound Togs
Howse Brothers
John & Susie McQuade
Marsha's Martingales, Etc.
Martin Sinkoff Wines
Marty's Wine Bar & Merchants
Mary Landrum, Inc.
Medieval Castle, Inc.
Mik Wilkens Design Inc.
Mr. & Mrs. Gunnar Kephardt
Mr. & Mrs. James D. Izzarelli
Mr. & Mrs. Ken Hitchcock
Mrs. Baird's Bakeries
Patrizio Restaurants
Randy Harrill
Renaissance Skin Care
Ruggeri's Ristorante
Sewell Infiniti
SOO Greyhounds
Travel Jewelry
WOOF/Custom Design by Laura Beikman
---